Photos of Blake Fielder-Civil Who Says he Is Remarrying Amy Winehouse 2009-12-21 00:54:12
Blake Confirms He Is Marrying Amy and Starting a Family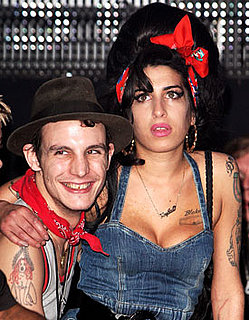 Two weeks ago Blake Fielder-Civil's mother confirmed her son and Amy Winehouse were back together following their divorce earlier in the year, and now Blake himself has spoken out about their reunion. He told The Sun:
"Amy and I have talked about getting married again and starting a family. We both definitely want kids. This time we're doing things properly and hopefully that will help both our families come round to the idea. We've both been through a lot but we love each other the same as ever. We've tried to get on with our lives and to see other people, but it wasn't the same. There's no one like Amy. She will always be the love of my life."
Blake's revelation comes after Amy's goddaughter, Dionne Bromfield, denied reports the divorcees were reuniting. However, Amy's been defending Blake and wearing an engagement ring and Blake insists they're making it work now that drugs aren't involved, saying:
"We're free of drugs and we're more responsible now. Coming off heroin was hell. I've been through a year of intensive rehab, I'm 100 per cent clean and I plan to stay clean. I'm not going to let anyone down. Amy said, 'You inspire me'. She's proud of me for staying off drugs, and she's determined to do the same."
To find out what Blake and Amy's future plans are, just read more.
Blake claims they'll take it slowly, saying:
"Our relationship has got to be one step at a time. I've got to find a good job in London and a place to live first. I'm not just going to move back in with Amy. It's going to be different this time. Hopefully people will see we're being more sensible now."
Amy's year is continuing to be scandalous: do you think she should reunite with Blake?