Photos of Bonnie Wright, Jamie Campbell Bower, Rupert Grint, Aaron Johnson at British Independent Film Awards 2009 Winners
Bonnie and Jamie Join Winners Michael and Carey at BIFA
A whole host of British acting talent attended the British Independent Film Awards at The Brewery in London last night. Newly engaged couple Aaron Johnson and Sam Taylor-Wood walked the red carpet alongside hot new couple Jamie Campbell Bower and Bonnie Wright, who also made a public appearance together at the previous weekend's Children's BAFTAs. Bonnie's Harry Potter costar Rupert Grint also attended the starry ceremony. FabUK has the lowdown on the red carpet style: be sure to vote to let her know who's best dressed.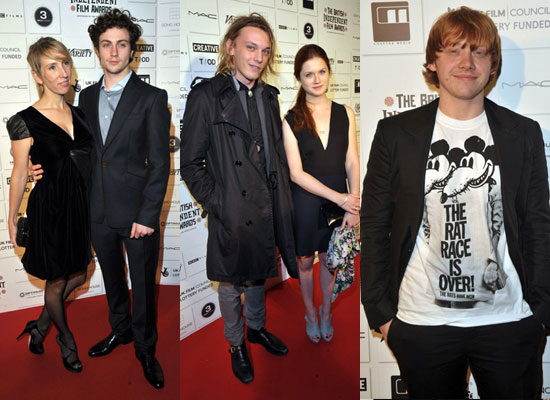 Winners on the night included Best Supporting Actress Anne-Marie Duff for Nowhere Boy, as well as Best Actress Carey Mulligan for An Education and Most Promising Newcomer Katie Jarvis for Fish Tank: both young actresses are battling it out to be named Best British Actress of 2009 in my poll. Sir Michael Caine was honoured with the Variety Award, and said he was "amazed" by the talent of the nominees. Check out the full list of winners after the jump.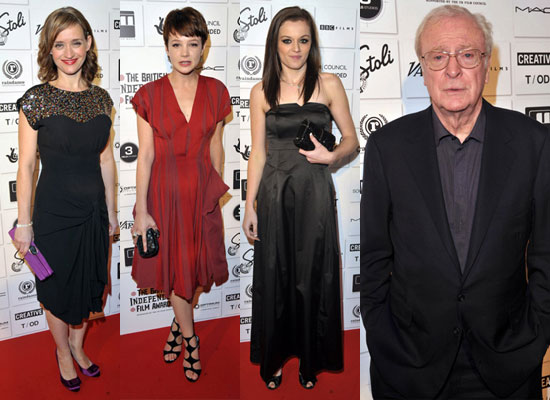 To see the full list of winners, plus more pictures of the attendees including Gemma Arterton, Hayley Atwell, Harry Treadway, Rosamund Pike, Eva Green and many more, just read more.
BEST BRITISH INDEPENDENT FILM
Moon
BEST DIRECTOR
Andrea Arnold – Fish Tank
THE DOUGLAS HICKOX AWARD [BEST DEBUT DIRECTOR]
Duncan Jones – Moon
BEST SCREENPLAY
In the Loop – Jesse Armstrong, Simon Blackwell, Armando Iannucci, Tony Roche
BEST ACTRESS
Carey Mulligan – An Education
BEST ACTOR
Tom Hardy – Bronson
BEST SUPPORTING ACTRESS
Anne-Marie Duff – Nowhere Boy
BEST SUPPORTING ACTOR
John Henshaw – Looking for Eric
MOST PROMISING NEWCOMER
Katie Jarvis – Fish Tank
BEST ACHIEVEMENT IN PRODUCTION
Bunny and the Bull
RAINDANCE AWARD
Down Terrace
BEST TECHNICAL ACHIEVEMENT
Bright Star – Cinematography – Greig Fraser
BEST DOCUMENTARY
Mugabe and the White African
BEST BRITISH SHORT
Love You More
BEST FOREIGN FILM
Let the Right One In
THE RICHARD HARRIS AWARD (for Outstanding Contribution to British Film)
Daniel Day-Lewis
THE VARIETY AWARD
Sir Michael Caine
THE SPECIAL JURY PRIZE
Baz Bamigboye
Images include: Michael Caine, Aaron Johnson, Sam Taylor-Wood, Anne-Marie Duff, Armando Iannucci, Carey Mulligan, Gemma Arterton, Hayley Atwell, Harry Treadway, Katie Jarvis, Rupert Grint, Rosamund Pike, Eva Green, Celia Imrie, Bonnie Wright, Jamie Campbell Bower, Idris Elba, Meera Syal, Sanjeev Bhaskar, Ashley Walters, Nick Moran, Jodie Whitaker, Noel Clarke, Andy Serkis