Photos of British Comedy Awards 2009 Featuring Katie Price
Fab Women Join Funny Men at British Comedy Awards
The British Comedy Awards took place at the weekend, with one of my favourite TV shows, Outnumbered picking up three awards. Several women joined the comedy stars like Leigh Francis, Harry Hill, Peter Kay, David Mitchell and Robert Webb for the ceremony, including Katie Price, Claudia Winkleman, Davina McCall, Pixie Lott, Emma Griffiths, Jane Goldman, Pamela Anderson and Vivienne Westwood: my girl FabUK has the lowdown on who wore what on the red carpet. Make sure you vote on who was best dressed!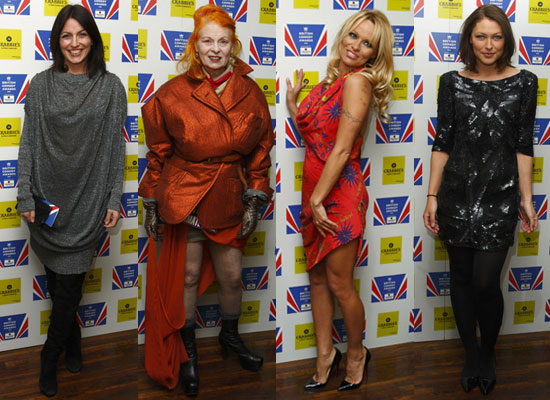 Other winners included Simon Bird, who was presented his award for The Inbetweeners by Katie Price, and Peter Kay, whose outstanding contribution to comedy was awarded by JK Rowling. Harry Hill won two gongs, Terry Wogan was honoured for his lifetime achievement, and the Outnumbered kids posed in the press room with Harry Potter's Tom Felton.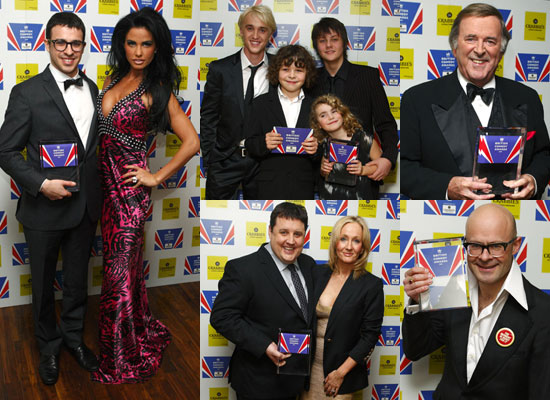 To see the full list of winners plus more pictures, just read more.
2009 British Comedy Award Winners
Best comedy entertainment personality: Harry Hill: Harry Hill's TV Burp
Best comedy entertainment programme: Harry Hill's TV Burp
Best television comedy actor: Simon Bird: The Inbetweeners
Best television comedy actress: Katherine Parkinson: The IT Crowd
Best new British television comedy: Psychoville
Best television comedy drama: Pulling
Best live stand-up performer: Michael McIntyre: Live at the Apollo
Best male comedy newcomer: Charlie Brooker: You Have Been Watching
Best female comedy newcomer: Ramona Marquez: Outnumbered
Best comedy panel show: Have I Got News For You
Best sitcom: Outnumbered
Best sketch show: Harry & Paul
Best comedy film: In the Loop
Lifetime achievement: Sir Terry Wogan
Outstanding contribution to comedy: Peter Kay
Best British comedy 2009: Outnumbered
Images include: Katie Price, Claudia Winkleman, Davina McCall, Pamela Anderson, Vivienne Westwood, Pixie Lott, Emma Griffiths, Tara Palmer-Tomkinson, Jane Goldman, Ramona Marquez, Daniel Roche, Tyger Drew-Honey, David Hayes, Joe Calzaghe, Kristina Rihanoff, Leigh Francis, Harry Hill, Terry Wogan, Tom Felton, Faye Ripley, JK Rowling, Peter Kay, JLS, David Mitchell, Robert Webb