Photos of British Stars Christian Bale, Hugh Laurie, Paul Bettany, Gavin Rossdale Plus US Stars at People's Choice Awards 2009
Us Brits Are Amongst the American People's Choice!
Stars of the big and small screen got glam for the People's Choice Awards in LA last night. Carrie Underwood won three awards, and Paris Hilton and Jewel won me over with their pretty dresses. Nominees announcer Joshua Jackson wasn't in attendance unfortunately, but there were lots of other gorgeous guys to feast our eyes on.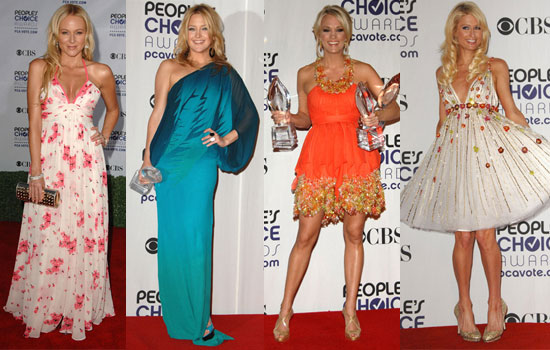 Our very own Christian Bale picked up a couple of gongs thanks to The Dark Knight's huge success. Other British winners included Favourite Male TV Star Hugh Laurie, and Paul Bettany whose film The Secret Life of Bees picked up two gongs, while Gavin Rossdale presented Kate Hudson with her award. My girl Buzz has got the full winners list, Fab and Bella have polls on all the fashion and beauty looks, and BellaUK wants to know whose nude lips do you like the most?
To see 50 pictures of the stars arriving, during the show, and in the press room, including Jordin Sparks, Dakota Fanning, Debra Messing, Adam Sandler, Christina Applegate, Ellen DeGeneres, Katherine Heigl and Reese Witherspoon, read more.
Images include: Eric McCormack, Tom Cavanagh, Gavin Rossdale, Hugh Laurie, Jennie Garth, Jewel, Jordin Sparks, Paul Bettany, Teri Hatcher, Carrie Underwood, Dakota Fanning, Debra Messing, Paris Hilton, Queen Latifah, Samantha Harris, Carrie Ann Inaba, Brooke Burke, Tom Bergeron, Adam Sandler, Christian Bale, Christina Applegate, Ellen DeGeneres, Kate Hudson, Katherine Heigl, Kid Rock, Reese Witherspoon, Robin Williams, Portia de Rossi, Charlie Sheen