Photos of Cameron Douglas and Father Michael Douglas, Cameron Sentenced to Five Years in Prison for Drug Possession
Son of Michael Douglas Sentenced to Five Years in Prison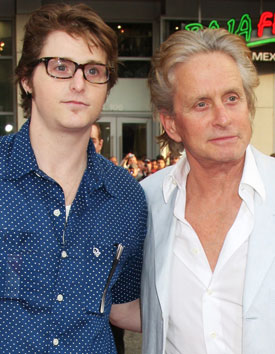 Cameron Douglas, son of Michael Douglas, has been sentenced to five years in prison for conspiring to sell crystal meth and heroin possession. He was arrested in July when $18,000 worth of crystal meth was found in his hotel room.
Along with the jail sentence he'll pay $25,000 in fines and serve 450 hours of community service and when he leaves prison he'll spend another 5 years in a supervised release program.
Michael was left "devastated" after Cameron's arrest and spoke about it last August. He was present in court and had written a five page letter partly blaming a family history of substance abuse as one of the reasons for his son's problems.
To read what Kirk Douglas, Michael, and his wife Catherine Zeta-Jones wrote about Cameron, just read more.
"I love my son, but I'm not blind to his actions. I don't want to see him break. He is an adult and responsible for his own actions. We do know, however, that genes, family and peer pressure are a strong influence on a substance abuser. I have some idea of the pressure of finding your own identity with a famous father. I'm not sure I can comprehend it with two generations to deal with.... Cameron grew up a single child in a bad marriage. Cameron found his family in the gang mentality... He's sober. I get to witness the wonderful young man he can be. He maintains his spirit, blames no one but himself and recognises his criminal activity began with his heroin use."
Catherine Zeta Jones wrote,
"Never in my experience over the years has Cameron shown any signs of the disease that has tormented him, toward his siblings or has ever been abusive to us as a family at any time. My stepson is a caring, considerate, worthy human being, but never the less, the disease, that for years he has tried to combat, did take over again. What is wrong, is wrong, but may all these positive attributes prevail, so that a facility that he is positioned in, will help rehabilitate him."
Michael's father Kirk wrote,
"Cameron was always a pleasant guy who cared for others. It was a surprise to me when he got in trouble. I am convinced that Cameron could be a fine actor and a person that cares for others. I hope I can see that happen before I die. I love Cameron."
The judge called this "Cameron's last chance to make it" as he passed sentence.