Photos of the Celeb Men in Their Suits on the Red Carpet at the Golden Globes
Sexy Gents Get Suited Up For the Golden Globes Red Carpet
There were lots of hot guys on the red carpet at the Golden Globes last night, looking all suited and booted for the formal occasion. Gerard Butler, Taylor Lautner and Matthew Morrison were among those rocking the bow ties last night, while Chace Crawford wore a skinny tie with his suit. Robert Downey Jr went without a tie, while Cory Monteith wore a white one with his shiny Hugo Boss suit.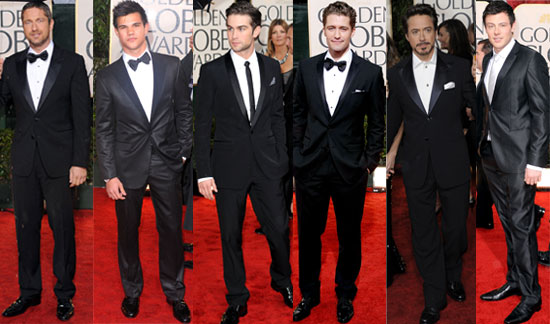 Gorgeous George Clooney was still rocking his beard, as was Jon Hamm. The Brits were represented by Hugh Laurie, Colin Firth, Kenneth Branagh and the host with the most Ricky Gervais. Lots of guys were on umbrella duty for their ladies, including Joshua Jackson, Josh Duhamel, Nick Cannon and David Arquette who seemed to get in trouble with wife Courteney!
To see many more great photos of the gorgeous guys, just read more.