Photos of Cheryl Cole Collecting Ashley Cole From Hospital After Ankle Operation Naked Texts Scandal Hello Quotes on Infidelity
Cheryl and Ashley Face More Naked Picture Allegations
Cheryl Cole looked unhappy as she collected Ashley from St John and Elizabeth Hospital in London late on Friday. Ashley's ankle operation means a worrying period for the footballer on the professional front as he anxiously waits for the healing process, and his personal life is not much better. Following revelations that naked pictures of Ashley were sent to a glamour model, a second woman has come forward with explicit photos and texts on her phone allegedy sent by Ashley. An angry Cheryl reportedly spent Valentine's Day working rather than being with her husband, and also banned him from the Brits tomorrow. Cheryl is apparently living in a hotel and her Girls Aloud band mates are reportedly urging her to split from Ashley. Cheryl, however, has told Hello! that she's sticking by her man. Here are the highlights: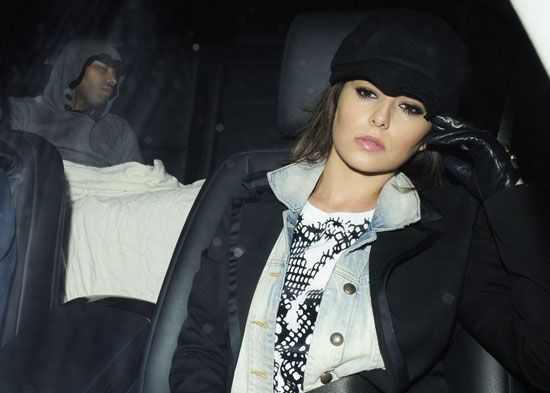 On working through problems: "You don't have to just give up when two people who love each other have a few problems. Anyone who throws in the towel ends up achieving nothing."
On Ashley's infidelity: "I've never defended him and I don't want to go into this subject. But my message is still the same. If it's worth fighting for then fight. And in the case of me and my husband, it's worth it. We love each other. Of course, sometimes when things aren't going very well, you've got to work on your relationship. Sometimes one of you makes a mistake, sometimes the other."
On being realistic: "Well, let's not kid ourselves. We're not at primary school any more. Let's just say that during the first 6 to 12 months everything is always great. You're totally in love and everything works by itself. Then, at some point, everyday life takes over again. I think that's normal."
To see more pictures and find out what Cheryl said about how her life inspires her songs, the importance of romance, and having children with Ashley, just read more.


On whether "Fight for this Love" was inspired by her marriage: "Of course. Definitely. I can completely identify with what that song is saying and I am sure a lot of other women feel the same. The message for 'Fight for this Love' is encouraging and inspiring. Every woman who has been in a relationship knows what I am talking about."
On "3 Words": "It's about how wonderful it is to have a functioning relationship. We all have days when we feel really down. Thinking about the person you love doesn't mean a bad day becomes a great one but at least everything seems a bit brighter."
On romance: "I love romantic things. I find little things really romantic and sweet. Like when my husband says something lovely on the answering machine. Or when he runs a bath for me. That's enough for me. I'm not an incredibly demanding person and I love it when he surprises me."
On children: "I'd like to start a family with Ashley. Not this year, but I don't want to wait forever to have children."
Read the full interview in Hello!, out now.