Photos of Cheryl Cole on Cover of Hello Magazine UK September 2009
Cheryl Cole Reveals Her Girl Crushes to Hello
Cheryl Cole's been busy performing with Girls Aloud, filming the video for her new single and gracing our TV screens on The X Factor, but she's still found time to chat with Hello! magazine about her crushes, famous friends and how she feels about her life. Here are the highlights: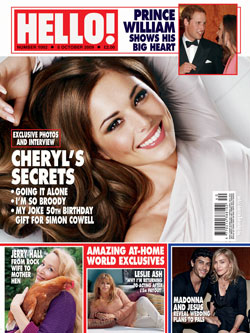 On Megan Fox: "[She is] so beautiful. I love what she wears and oh my God, she's so perfect looking."
On Beyonce: "I'm obsessed with Beyonce. When I met her I turned into an absolute gabbling fool; 'You are what every woman should aspire to be, you are amazing, I love you!' I was so embarrassed."
On what she'll buy Simon Cowell for his 50th: "Some teeth bleach whitener! No, I'm joking, I shall have to think about it."
On her life right now: "This is the most fulfilling time of my life ever. I am in a really positive place and I feel like I need to enjoy every single second of it."
Read the full interview in Hello! out now