Photos Of Clive Owen and Julia Roberts After The UK Premiere Of Duplicity
Julia and Clive Dine After Duplicity
Julia Roberts and Clive Owen were in London last night for the premiere of their new movie Duplicity. After the main screening finished in the West End, the two stars headed to The Ivy for the afterparty, both looking smart in their suits. As they walked the red carpet, Julia explained her reasons for doing the movie, "It's a great script, great director and Clive Owen." Meanwhile, Clive had nothing but gushing admiration for his costar, saying: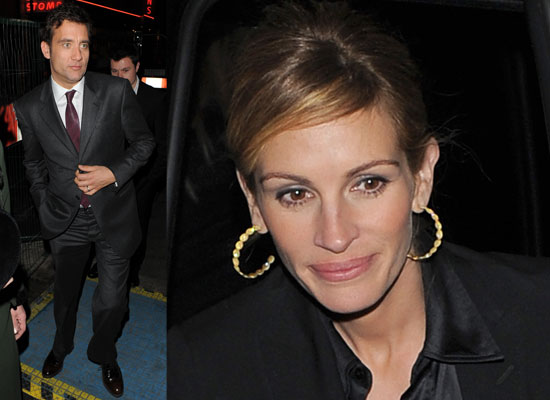 "She's stunningly beautiful, smart and an incredibly gifted actress. I had to take her out for lunch and tell her the script was dynamite and she had to do it."
What a gorgeous cast! Will you be going to see Duplicity when it's released on March 20?
To see more photos of Julia Roberts and Clive Owen, just read more.