Photos of Coldplay, Girls Aloud, Jay-Z at Wembley Stadium, Watch Performances Including "Billie Jean" and "Empire State of Mind"
Coldplay, Jay-Z and Girls Aloud Rock Wembley Stadium
Coldplay brought their world tour to a close this weekend with two rocking shows at Wembley Stadium, and I was lucky enough to be there. Chris Martin and the boys were supported by White Lies, Girls Aloud and a record-breaking Jay-Z, who really got the audience going: watch Girls Aloud's "The Promise" and Jay-Z's "Empire State of Mind" after the jump. Coldplay performed a mammoth set of their hits, plus an acoustic version of "Billie Jean" where they were joined by Simon Pegg who played the harmonica, and Jay-Z came back out for "Lost". Chris was energetic as always, showing off his impressive flexibility, and his playful mood was in full force as he got the 60,000 strong crowd to perform a Coldwave — a Mexican wave with mobile phones (check out an example after the jump). In honour of Cheryl Cole, the band also set up an X Factor-style audition with Simon Cowell on the screens. What an awesome show!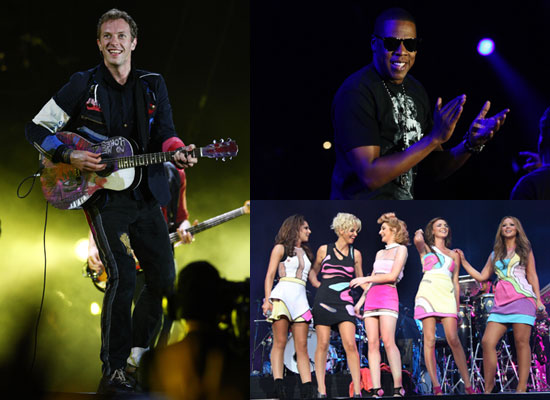 To watch videos of performances, see the set list and more pictures, just read more.
Girls Aloud "The Promise"
Jay-Z feat. Bridget Kelly "Empire State of Mind"
Coldplay and Simon Pegg "Billie Jean"
Coldplay "The Hardest Part", "Postcards From Far Away" and "Viva La Vida"
The Coldwave
Life In Technicolor
Violet Hill
Clocks
In My Place
Yellow
Glass Of Water
Cemeteries Of London
42
Fix You
Strawberry Swing
God Put A Smile Upon Your Face (techno version)
Talk (techno version)
The Hardest Part (Chris piano)
Postcards From Far Away (piano instrumental)
Viva La Vida
Lost+ (feat. Jay-Z)
Death Will Never Conquer (acoustic - sung by Will)
Trouble (acoustic)
Billie Jean
Viva La Vida (remix interlude)
------
Politik
Lovers In Japan
Death And All His Friends
-------
The Scientist
Life in Technicolor ii
The Escapist (outro)