Photos of Coleen Rooney at Ladies Day at Aintree in LBD Showing Off Post-Baby Figure Plus Hello Quotes on Cheryl Cole
Coleen Rooney In a LBD Leads the Ladies at Aintree
Coleen Rooney showed off her fab post-baby figure in a gorgeous Matthew Williamson LBD and Louboutin heels at Ladies' Day at Aintree in Liverpool yesterday. The big grin on her face showed her excitement, as she said: "I'm wearing this lovely little black dress and looking forward to a fantastic day of racing. Look at the sky? It is such a beautiful day". It was strictly a girls' day out for Coleen and her pals, with no sign of Wayne or baby Kai, who holidayed with a bikini-clad Coleen in Barbados a month ago. She is due to present a car to the winner of the Style 10 Matalan fashion show today before watching the Grand National: sounds like fun! Earlier this week she opened up to Hello about family and fashion. Here are the highlights: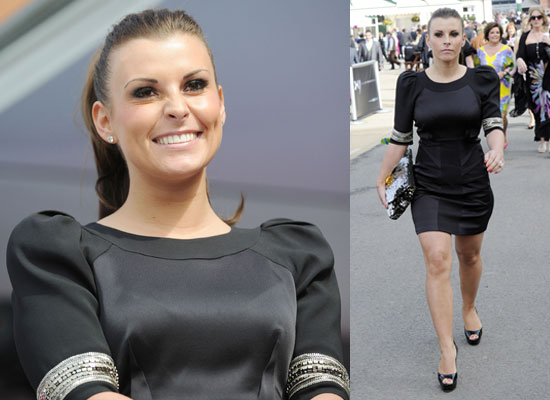 On losing the baby weight : "I never say what I weigh, but I still have a little way to go. I'm a dress size 10-12 and naturally curvy. I've still got a bit of a belly — it's getting there, but you can't do it too fast and to be honest I'm not too bothered about it as that's part and parcel of pregnancy. I train at the gym twice a week and still like a cooked breakfast and a Chinese takeaway maybe on Sunday night."
On Wayne : "He does little things like write me a leaving note and leave it somewhere in the house. He's a man's man. He doesn't comment a lot about what I wear. But every now and again he'll say 'you look nice,' and I won't play it up or anything, but it will mean a a lot to me."
On the model she admires most Elle Macpherson: "Even though she's in her forties now, she always looks healthy and toned and she has a glow. She's got long legs, she's tall and she looks healthy as well."
To find out Coleen said about Wayne's tears and Cheryl Cole, read more.
On Kai's birth: "It went really well. I had Wayne holding my hand on one side, my dad holding my other hand."
On Wayne's tears at the birth: "At the time, I didn't cry once, I was just determined to deliver, but everyone else was in tears! Wayne filled up – I think he was in shock about the whole situation! "
On Cheryl Cole: "I do keep in touch with Cheryl (Cole). Occasionally we will drop each other a text. Cheryl is just so nice and doing so well."