Photos Of Daniel Radcliffe, Emma Watson, Rupert Grint, Bonnie Wright, Tom Felton At Harry Potter and the Half-Blood Prince
Emma, Rupert and Daniel Get Rain Soaked At Potter Premiere
The British weather pulled out all the stops for the Harry Potter and the Half-Blood Prince premiere in London last night, soaking stars Emma Watson, Rupert Grint and Daniel Radcliffe as they took their time meeting with their many fans and signing autographs outside. Bonnie Wright, Evanna Lynch, Tom Felton, Maggie Smith, Robbie Coltrane, Michael Gambon and Helena Bonham-Carter were among the cast that attended the huge Leicester Square event last night! Daniel has said he doesn't understand why girls scream for him, explaining: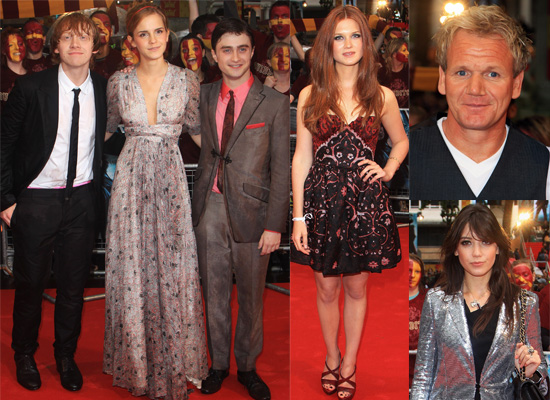 "If girls like me, that's great. I go to Japan and they all scream and it all goes mad, but that's a different type of me - that's the red carpet me and that's who a lot of people seem to be attracted to, but the me that sits in a darkened room for eight hours a day watching the cricket with a big bowl of pasta in my socks and my underwear is not nearly so appealing to women."
Emma Watson looked super-stylish despite a wardrobe malfunction in her vintage Ossie Clarke dress, and all the stars wore their white ribbons to honour murdered castmate Rob Knox. Guests included Gordon Ramsay, Tom Fletcher, Daisy Lowe, Pixie Geldof, Myleene Klass, Guy Ritchie, Dermot O'Leary and many others. Don't forget to check out FabUK's take on the stylish ladies at the premiere!
To see many more photos of all the cast and guests at last night's Harry Potter premiere, just read more