Photos of Daniel Radcliffe Receiving His Portrait For Equus on Broadway at Sardi's, Quotes About Robert Pattinson and the Obamas
Daniel Radcliffe Raves About Robert and the Obamas
Daniel Radcliffe was given the honour of his own caricature at Sardi's Restaurant yesterday, to celebrate his Broadway run of Equus. He's nearly finished his nude role on stage, and will then start filming Harry Potter and the Deathly Hallows. Rehearsals have already started, and sadly Dan's stunt double David Holmes is in hospital after falling during a flying scene. Dan has praised David's gymnastics skills in the past, and I'm sure the actor will be thinking of his colleague at this difficult time. In a recent interview with The Daily Beast, Dan had positive words to say about another Harry Potter costar, as well as the Obamas. Here are the highlights: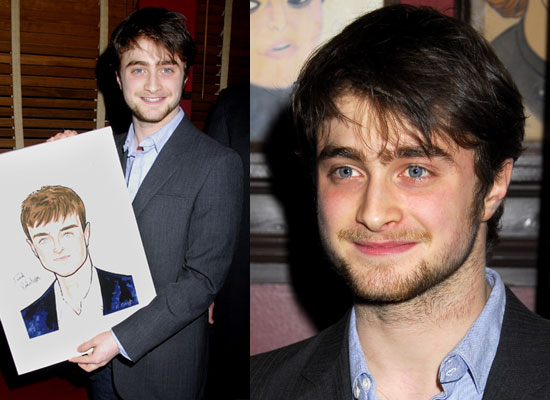 On Barack Obama: "I am so proud and happy for this country. He is everything the rest of the world liked about America and now likes again. He is both Martin Luther King and JFK. He is a pioneer. He is a symbol of progress which is what we dig about this country."
On Malia and Sasha Obama: "I'd like to take this opportunity to issue a public invitation to the Obamas that if their daughters would like a private tour of the Harry Potter set, I would be honored to be their personal tour guide."
On Robert Pattinson: "I can safely say that his insisting that girls would choose me over him that they would not. That they do not. He is the much prettier and can be much more charming. And he can do that thing of being sultry and sexy... I don't know how to be sexy. Rob can just sort of stand there and look at something and start to smolder. And I just can't do that. I'm a natural fidget."
To find out what Dan had to say about Americanisms, race and politics in Britain, and Prince Harry, just read more.
On whether England could have a black or Pakistani prime minister: "I think that will be the next thing to happen. It will happen with an Asian guy before it happens with a black guy. I don't know why that is, but English politics is just so overly white. It's very much about the class structure. And particularly with the Labour Party being like it is. New Labour now. It's so upper class, really. I mean you can't criticize people for being born upper class, but that does seem to be the trend, and you just really feel you need somebody to go in and really shake things up. The thing is this is what my generation in England misses in politics and what America has just gained through this fantastic man, Barack Obama."
On Prince Harry: "I have nothing against the royals as people. I've never met them. But in terms of that particular comment about Pakistanis, Prince Harry said a very stupid thing. He was probably very young at the time. I hope he has learned since not to say such a thing or at least learned not to be filmed saying it. The big deal to me was his wearing a Nazi uniform at that costume party."
On American phrases he's picked up: "'I know—right?' That phrase and its little rhythm there is very American and not really used in England. I've started saying that and people are picking up on it when they come over."
You can read the full fascinating interview over at The Daily Beast.