Photos of Danielle Lloyd Who Is Pregnant By Fiance Jamie O'Hara
Danielle Lloyd Is Pregnant!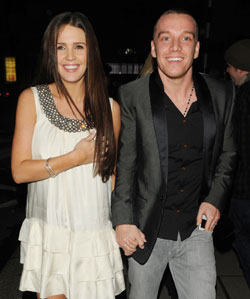 Danielle Lloyd has announced she is four months pregnant with her first child with fiancé footballer Jamie O'Hara. The model and Celebrity Big Brother contestant confirmed the news today in a statement made by her spokesman Andy Varley, who said:
"Danielle is due to give birth at the end of July and is very excited but slightly nervous at the prospect of becoming a mum. Danielle was overjoyed with the news that she was expecting. Having been a sufferer of Polycystic Ovary Syndrome, she was once told that she would never be able to have children, which makes the news even more exciting."
Danielle's spokesman also confirmed they have set a date for their wedding for 18 June 2011. They announced their engagement three months ago after getting together last April.
Congratulations to Danielle and Jamie!