Photos of David Beckham at Adidas Predator Launch in Milan
David Beckham Is Eagerly Awaiting "Good News"
David Beckham was full of gorgeous smiles when he attended the new Adidas Predator presentation at the Adidas Store in Milan yesterday. It's no wonder he's looking happy, as he's been hanging out with his old Manchester United teammates who are in the Italian city for a match against Inter Milan this evening. It also sounds like his permanent move from LA Galaxy to AC Milan could become a reality. While David said "I have no news, good or bad" after his match on Sunday, he's now hinted that the negotiations have progressed, saying: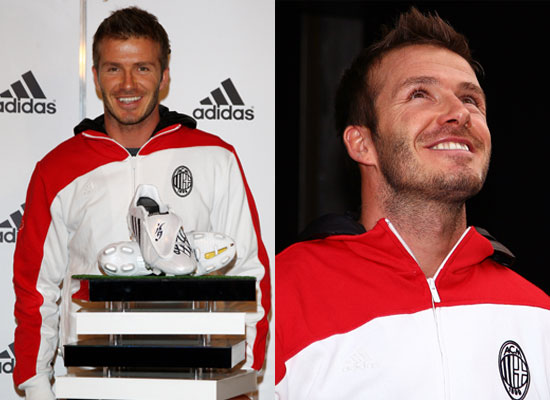 "I have not heard from Galaxy, but from what has been said, I gather there could be good news. I want to stay at Milan. I really don't know what will happen, but I do know that next week will be very important. [Returning to MLS] could affect Capello's decisions. I love playing football and therefore I want to stay here."
I love to see David smiling so wide, so let's hope he gets some great news soon.