Photos of David Beckham at Adidas Presentation in Milan Plus Victoria Beckham in London
David's Fashionable But Victoria Doesn't Have the X Factor
David Beckham took time out from getting shirtless on the pitch to attend the adidas Originals by Originals David Beckham presentation at Milan Menswear Fashion Week yesterday, while Victoria hid behind shades as she left her hotel for a business meeting in London this morning. One project Victoria won't be discussing is judging the US X Factor, as Simon Cowell has categorically denied the rumours. Becks has been rubbing shoulders with designers like Roberto Cavalli while the fashion set are in town, and he'll do well to bend their ears for tips if rumours of his own line are to be believed. He's still focused on his football, however, and he's opened up about his feelings for Manchester United. Here are the highlights: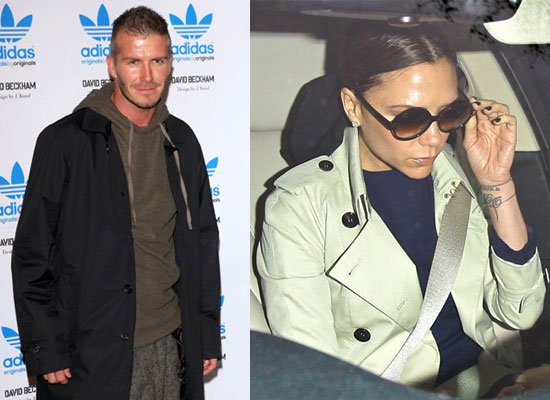 On the right timing: "It's going to be a weird feeling playing against United at Old Trafford, but I am ready for it now. Over the years, when I was at Real Madrid, I always hoped I would go back but there was something inside me saying 'it wouldn't be right at the moment'. I always felt I wasn't quite ready to go back but as soon as I found out about the Champions League draw last month, it felt right."
On what he would do if he scored: "I wouldn't celebrate if I scored. It would take me a split second to compose myself and remind myself I couldn't celebrate because when you score a goal, it's a rush and it's an instinct to celebrate. But if it happened at Old Trafford, I would curb that instinct."
On playing for Man Utd again: "I don't think it would ever happen but if I could finish my career at Old Trafford it would be amazing. It would be kind of perfection. I always dreamt of playing for Manchester United and staying there and never leaving. Obviously, circumstances dictated that didn't happen. But if ever a chance came up to go back and I doubt it ever will, then of course I'd take it. You always look at ending your career on a high and the majority of times it doesn't happen."
Wouldn't it be great to see David back at Man Utd?
To see more pictures of David and Victoria, just read more.