Photos of David Beckham Arriving at LAX With Brooklyn
Becks and Brooklyn Take to the Skies as Competition Heats Up
David Beckham held Brooklyn's hand as the pair arrived at LAX yesterday. They flew in from Heathrow Airport, and by the time they landed back in the States, Becks had taken off his leather jacket and pulled a hat down over his eyes. With Victoria travelling around the US with the American Idol gang, and David travelling to Europe to play for England, I'm sure the family will be happy to be reunited again. David's still thinking about the World Cup, and said: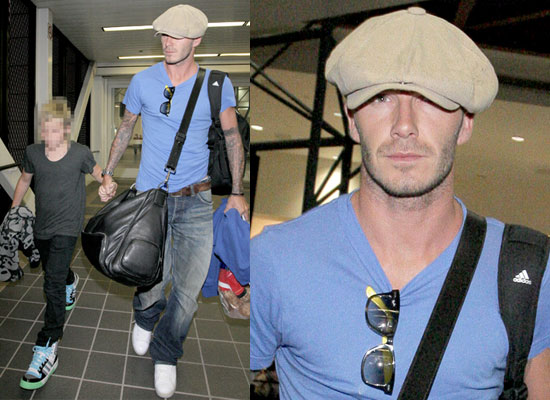 "Without a doubt competition for places is growing stronger. It's like that week in, week out and it's what you want in a World Cup year. Hopefully once we qualify that will continue because you want competition, it's what makes great teams. If no one is pushing you then you are not pushing yourself so it's important we've got that."
We all know how playing for England drives David, so let's hope he gets his wish and represents his country in the World Cup in South Africa next year.
To see more pictures of David, just read more.