Photos of David Beckham in Finland For Achilles Injury Operation and Victoria Beckham Flying to His Side
David Beckham Starts His Recovery After Successful Operation as Victoria Flies to Europe
David Beckham underwent surgery in Finland yesterday on his snapped Achilles tendon, while Victoria headed to LAX Airport to fly to Europe. Although the surgeon, Dr Sakari Orav, said the operation went "smoothly" he also said there was "no chance" of Becks playing in the World Cup, confirming: "The tendon was totally torn." David's father Ted consoled his devastated son on Sunday night, and Victoria will soon be at his side to help his recovery. David thanked his fans for their support, and his bosses are also trying to comfort him, with the LA Galaxy coach pledging his support. David's surgeon has spoken about his mood today, saying: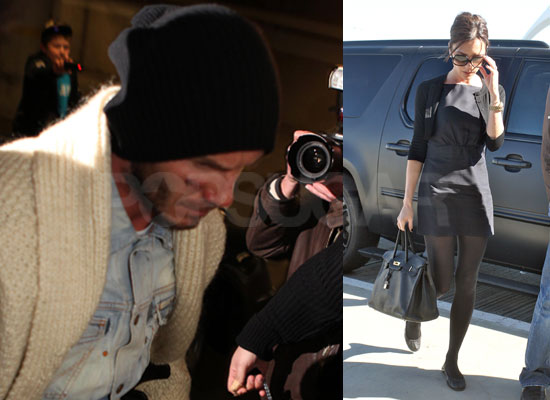 "When he came here yesterday he was tired and depressed and melancholy. But this morning he was smiling, good and experiencing no pain. He has been given a lot of painkillers. He's been given lots of medicine so it's tolerable. I saw him this morning and he was in good spirits. He was up and chatty. I think he has refused to give up, he's being very cool. Privately he is a very quiet and good patient and has not complained once."
The surgeon also added that the Beckhams have decided not to meet in Finland, but will meet in London and then return to Los Angeles together.
To see more pictures of David and Victoria, just read more.