Photos of David Beckham Getting Into a Fight on the Pitch During AC Milan vs Inter Milan Match
David Beckham's Milan Move Tension Shows on the Pitch
Tensions were running high during AC Milan's local derby match against Inter Milan yesterday, with David Beckham and Inter's Sulley Ali Muntari getting physical. Becks also picked up an injury, and he later explained: "I was struggling a bit because I got a kick on my calf playing for England on Wednesday. It didn't really clear up, and then I got another kick on it tonight. It's just one of those things". It's not surprising David is feeling the pressure, as the MLS's Friday deadline passed without a resolution. AC Milan's coach is still hopeful that a deal will be done, and David reiterated his desire to stay in Milan after last night's match, saying: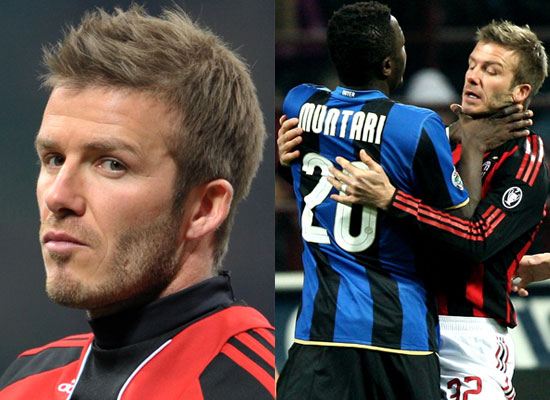 "The negotiations are not over. I know that the clubs will talk again over the next couple of weeks. We have to wait and see. I hope that things will go the way I want them to and I have already said it is my desire to stay at Milan. Having clarified that I want to stay here, it might be difficult to go back to playing in the States."
He added: "If I have to go back, I will be professional, because that's what I have to do". With Victoria in New York for Fashion Week, David will have to wait it out on his own for now.