Photos of David Beckham at Old Trafford AC Milan Lost 4-0 to Man Utd Wears Green and Gold Scarf
Controversial David Beckham Comes Home to Old Trafford
David Beckham finally returned to his beloved Old Trafford as AC Milan played their second leg Champion's League match against Manchester United. Having lost the first leg in Italy, David's team also lost the game last night 4-0, but Becks still smiled as he waved from the stands and applauded the crowd, who gave him a standing ovation as he took to the pitch in the 64th-minute. After chatting with his England team mates, David bundled up in a scarf and hat as he flew back to Italy. Before the game Becks said it would feel like coming home, and after the match he spoke about the fan reception, his support for Man Utd, Wayne Rooney, and his controversial move in wearing a green and gold scarf. Here are highlights: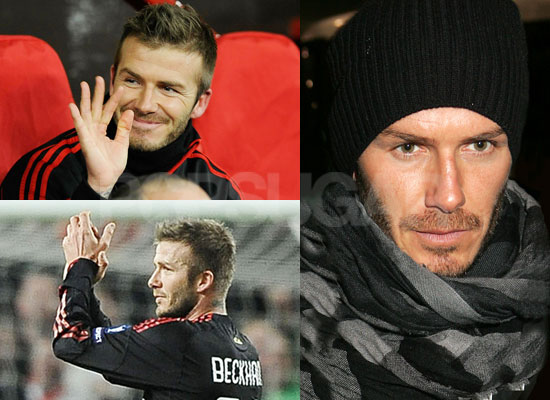 On losing: "When you get knocked out of a competition you kind of hope that the team that knocks you out goes all the way. It is always disappointing when you lose games, especially when they are as important as this, but we've come up against a great United side tonight."
On the reception from the fans: "The thing that I will take is the reception I got from the fans, it was unbelievable. It meant a lot [coming back here]. It's definitely up there as one of my best nights, obviously without the result. The atmosphere, the occasion and everything that the fans gave to me tonight was unbelievable."
On his support of Man Utd: "I hope they go all the way again. They deserve to, it is a great club, a great fan base and a great manager."
To find out what Becks said about wearing the green and gold scarf plus his admiration for Wayne Rooney, and to see more pictures of David on the pitch, read more.


On wearing the green and gold scarf, a symbol of supporter opposition to the Glazer family's ownership of United: "I'm a Manchester United fan and when I saw the scarf I wanted to put it round my neck. It's the old colours of United but, it's not my business. I'm a United fan and I support the club. I always will, but it's got nothing to do with me how it's run. That's all to do with other people. I will always support the team."
On the protests against Man Utd's owners: "You can hear it week in and week out. There's always protests going on. Let's hope it gets sorted out."
On Wayne Rooney: "He is one of the best in the world at the moment, if not the best. Wayne will continue to play like that because he is a passionate player, he is a young player, he wants to learn. With [Lionel] Messi and Ronaldo he is up there with the best, if not at the top. He has always scared defenders, whoever he has played for. Let's hope he continues that."