Photos of David Beckham Playing with AC Milan vs Roma
Becks is Feeling So Strong Milan Want to Keep Him On
While speculation about his place in the England squad continues, David Beckham proved he's still got the golden touch by putting in an impressive performance at the Stadio Olimpico in his Serie A debut for AC Milan, playing 89 minutes of the 2-2 game against Roma. Becks celebrated his teammate Alexandre Pato's goals with piggy backs and big grins, but David had his own strength to celebrate too. He said: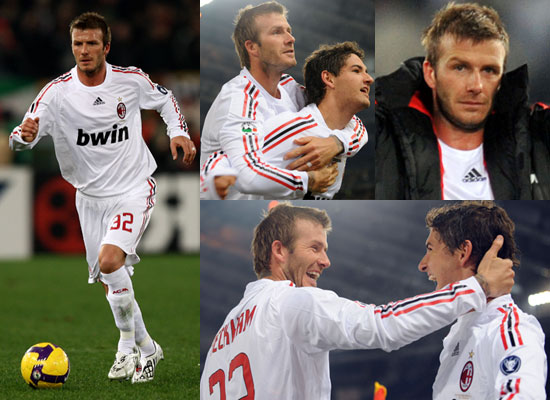 "I feel very good, very strong, a lot stronger than I thought I was going to feel. I had fun out there. I was surprised to have started the game but I am happy. Playing out there is what I love doing and I enjoyed it. When we had the meeting before the game, Ancelotti told all the players what the team was and that's when I found out. I didn't think I would last that long but I felt so good. At half-time I felt really strong. I think the manager saw that I felt good, that I still had energy and he kept me on. And I'm glad the manager kept me as long as he did because I needed time on the pitch in order to get match fitness."
It's not surprising, then, that Milan want David to extend his contract. As long as he's still looking hot on a pitch somewhere, I'm happy to watch him wherever he plays.