Photos of David Beckham Playing For England in Holland
David Beckham Doesn't Rule Out a Return to Premier League
David Beckham helped England to a 2-2 draw in their friendly against the Netherlands at the Amsterdam Arena last night. Attention turned to David's future, following Fabio Capello's reminder that Becks must play in Europe to secure his place in the World Cup. AC Milan have shown interest in David returning to the club in the Winter, and Becks spoke about the situation after last night's match — check out the video after the jump. He said: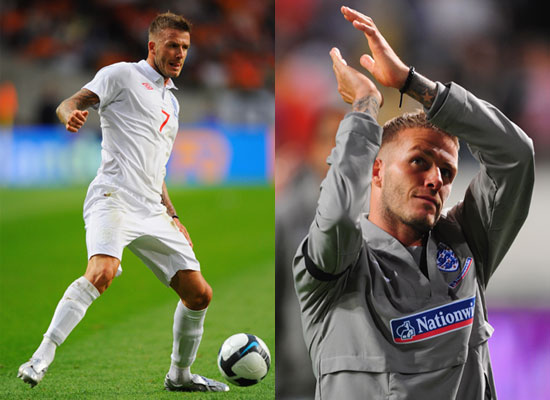 "At the moment all I am concentrating on is the MLS. When you are back with the England squad, of course you concentrate on that and what game is coming up, but I am going to concentrate on the rest of the MLS season with the Galaxy and then after that finishes, in a few months, I will make plans. But that is news that I already knew. I'm 95-99 per cent certain that it will happen. It's important that I concentrate on the season with the Galaxy, and when that's over there will be a decision by myself and the club that I will be going to. But it's important I concentrate over there first."
When asked about a return to the Premier League, David said: "I'm not sure. You never know. I'm not going to say it will never happen, but I enjoyed my time in Milan and they have expressed that they would like to take me back. AC Milan are one of the best clubs in the world, but I have quite a few months to decide on that." Come back to the UK David!
To see David's interview, plus more pictures of Becks in action on the pitch, just read more.