Photos Of David Beckham Playing with LA Galaxy, Against AC Milan With Gary Barlow, Victoria Beckham, Tom Cruise Watching
David's Got An All Star Audience As He Plays Against AC Milan
LA Galaxy played AC Milan in a friendly yesterday, which meant that David Beckham came face to face with his old team mates! It was Galaxy's first home game of the season, and David got some bad reactions from the crowd in Los Angeles, with boos filling the stadium and some signs displayed, showing that fans still feel he abandoned their team when he extended his loan period playing for Milan, and missed the first half of the Major League Soccer season. David had some great support in the crowd too though, not least from his wife Victoria, their children, Tom Cruise and also Gary Barlow, who is in California on holiday!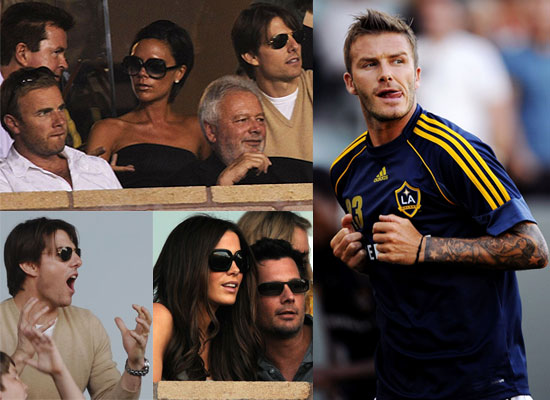 David was escorted from the pitch by security at one point after going over to confront some jeering fans, but he also spoke about the mixed reaction, saying:
"The majority of fans have been great. It was only one or two that, you know, it was to be expected. Sometimes it goes beyond it. I tried to shake one of the guy's hands but he didn't want any of it. That's the way it is."
It's certainly not the first time David's had bad reactions from fans of his team as he plays football, but I'm sure that he'll have soon forgotten about it as he hung out with his friends and family after the game, which ended in a 2-2 draw.
To see more photos of David playing football, while Tom, Victoria and Gary watch, just read more.