Photos of David Beckham Playing For LA Galaxy Against New England Revolution
David Beckham Is Praised By Donovan But Warned By Capello
David Beckham helped LA Galaxy into the MLS play-off race after their 2-1 win over New England Revolution at the Gillette Stadium in Foxborough, Massachusetts on Saturday. He shared a celebratory hug with Landon Donovan, who praised David for his performance, having recently been quoted criticising Becks in a new book. Landon said: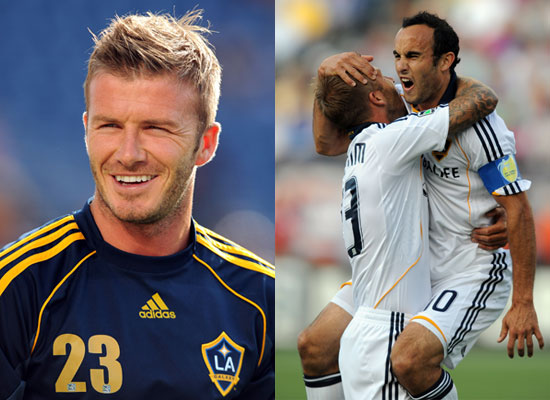 "David's been great since he's been back, in every way. He's added something off the field to the group and his qualities on the field make us a lot better. Regarding the book, no one wants to hear those kind of things about them, especially like that. David's taken it like a man and has moved on from it."
It's great that his team mates in Los Angeles are being more supportive, but David is going to need to leave the US at the end of the year if he wants to play for England, as Fabio Capello has said: "Beckham knows well that if he doesn't return to a big European championship in December he'll have no chance for the World Cup".
More pictures of David on the pitch, so just read more.