Photos of David Beckham Shirtless With His Top Off Playing For AC Milan
David Beckham Gets Shirtless, But Not With Clooney
David Beckham stripped off at the end of AC Milan's game against Werder Bremen last night, but he's keeping his shirtless displays on the pitch rather than at George Clooney's villa in Lake Como. The thought of George playing landlord to David was so appealing, but unfortunately George's rep has burst that bubble by saying the rumours are: "One hundred percent not true. George is filming in America at this time. He is not renting the house to anyone, and that would include David." Becks has got an image rights issue on his hands too, as he is reportedly considering seeking compensation for being included in Chinese adverts for anti-impotence pills! His mind is focused on football, however, and even though AC Milan are now out of the UEFA cup, David still wants to stay, as he reiterated yesterday: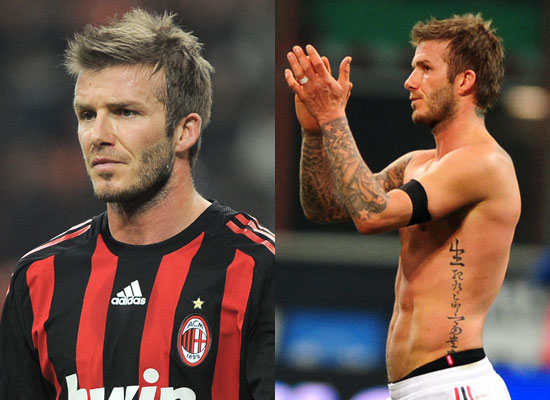 "It doesn't change me wanting to play at this club and hopefully it doesn't change other people's views of me wanting to stay at this club... There's a lot going on and a lot being said and every day someone is asking me questions about what's happening. It needn't be said every day, but so far I am trying to concentrate on the football. At the moment we'll have to see what happens. At the moment it is being discussed and negotiated."
As he's due back in LA on 9 March, a decision will have to be made soon. Good luck Becks!
To see more pictures of David on the pitch, just read more.