Photos of David Beckham Shirtless Playing For LA Galaxy Against Barcelona With Shirtless Thierry Henry
David Beckham Brings Us Monday Manjoyment
David Beckham brought manjoyment to the Rose Bowl Stadium in Pasadena as he stripped off his shirt following Los Angeles Galaxy's 2-1 defeat against FC Barcelona on Saturday. Arnold Schwarzenegger certainly sees David as a selling point for tourism to California, as the Governor will star in TV ads promoting the state alongside David and Rob Lowe. David isn't convinced the LA Galaxy supporters are behind him, however: he scored their only goal from his free-kick, but when asked whether it would help get the fans on his side, David said: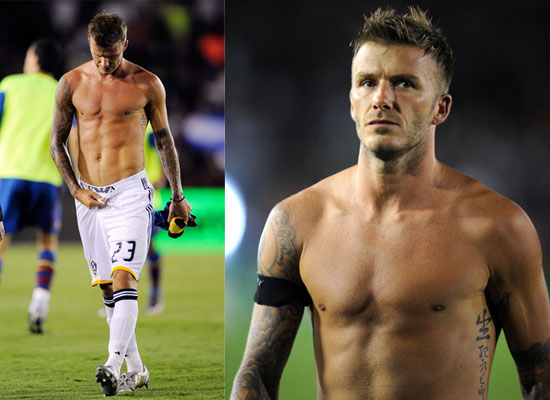 "Maybe, maybe not. If I did then great, if not, then I'm not going to lose any sleep. Like I said before, I always work hard for the team, I work hard for the manager and I work hard for the fans. Sometimes it's good enough, sometimes it's not. But I enjoyed my goal tonight. There's going to be the odd reaction from a minority of people. But 95%, 97% of the fans have been incredible."
It's always a pleasure to see David showing off his hot body, and I'll be finding out which shirtless Brits you think are sexy in my shirtless slideshow poll, so stay tuned!
Loads more pictures of David in all his shirtless glory, so just read more.