Photos of David Beckham Training With the England Squad as Rumours Suggest He Might Move to Chelsea
David Is Driven by Playing For England
David Beckham was back on home turf yesterday, training with his England teammates at London Colney in St Albans ahead of their upcoming World Cup qualifiers. Becks and Steven Gerrard helped each other with their stretches, and were joined by John Terry and Wayne Rooney: find out where they all hooneymooned! David is determined to play in all of England's games in the lead up to the World Cup in 2010, and has said: "what drives me hard is just playing for England". As AC Milan's season is now over, David will play his first game back for LA Galaxy on 16 July following his England commitments. He has spoken about his plans: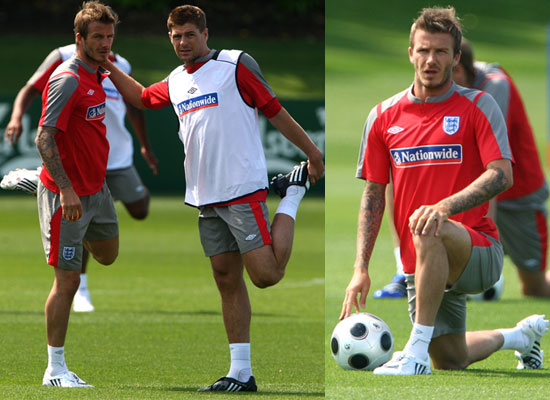 "I'll get four weeks off [after the England-Andorra game], which obviously I need to get that rest, but I'll still be working throughout that time to keep fit. Then I'll be back into the MLS season with the Galaxy. Then in December I'll have another couple of weeks off and then meet back with, hopefully, Milan."
When David gets back to LA Victoria wants him to join her in having lessons in an earthquake simulator, as she has been shaken by the recent tremors. With Milan's coach Carlo Ancelotti becoming Chelsea's manager, bets are being taken that David will join him at the Premier League side. Do you think the Beckhams will stay in LA, or come home to the UK?
To see more pictures of David and the England squad training, just read more.