Photos of David Beckham Training in Qatar
David Beckham Can't Help Loving That AC Milan
David Beckham was back in his football kit for a training session in Qatar yesterday, having relaxed in casual clothes for a Motorola photo shoot at the beginning of the week before getting suited and booted for a Milan Fashion Week party on Monday night. Becks should be back on our shores for England's friendly against Slovakia at Wembley on 28 March, when the whole squad will honour British servicemen and women who have been wounded in Iraq and Afghanistan. David's heart definitely lies in Italy, and he is so keen to for a permanent move he has even offered to make a financial contribution towards the deal. In case anyone was unsure of David's desire to stay with AC Milan, he once again reiterated the point: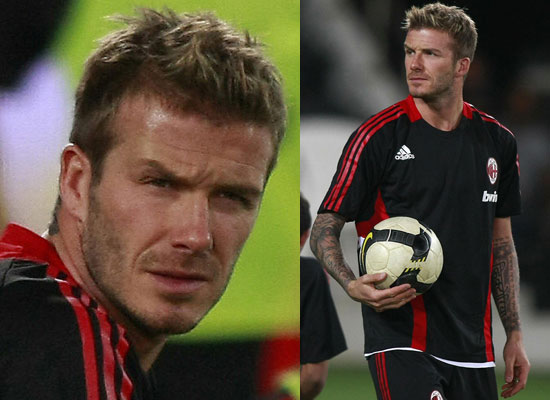 "I want to stay ... I know negotiations are on and, hopefully, I can continue to play with Milan. My experience with AC Milan has been incredible. It is one of the biggest clubs in the world, some of the most famous players in the world are at AC Milan."
I'm still keeping my fingers crossed for you David!
To see extra pictures of Becks, just read more.