Photos of David Beckham, Victoria Beckham, Gavin Rossdale, Gwen Stefani, Gordon Ramsay at Harper's Bazaar Dinner in London
The Beckhams Dine With Stefani-Rossdales and Ramsays
David and Victoria Beckham were joined by pals Gavin Rossdale and Gwen Stefani plus Gordon and Tana Ramsay at the dinner Harper's Bazaar held to celebrate Victoria's December cover at the Connaught Hotel in London last night. Do you love or hate Victoria's hair? Their friends will have consoled David following the sad news of his grandfather's death, and Victoria will have appreciated support from all the guests, including Simon Fuller and Roberto Cavalli, following the theft of her dresses. She plans to be around for a long time, however, and the Beckhams can look forward to Christmas dinner with the Ramsays. Gordon revealed: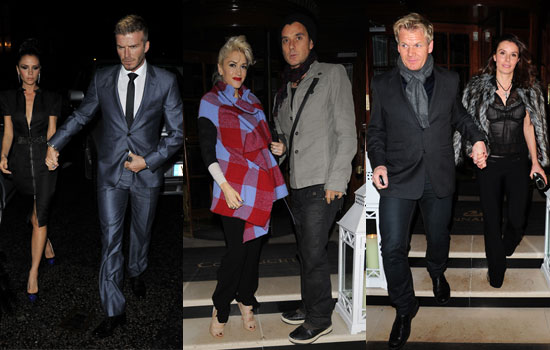 "Christmas Day is a big day and we are going to have lunch with David and Victoria. We'll all be together. The secret about cooking with families together is delegating, so we'll all be doing something I'm sure. Whether it's Victoria doing the roast or David carving the turkey or Tana making the sauce or me doing the Christmas pudding, we'll all be helping each other."
Gwen and Gavin are enjoying their time in London at balls and Winter Wonderland, but the Beckhams and Gavin are trailing in my favourite Brit abroad poll, so vote to help them win!
To see more pictures of the Beckhams, Ramsays and Stefani-Rossdales plus Laura Bailey, Jasmine Guinness, David Furnish, Roberto Cavalli and Simon Fuller, just read more.
Images include: David Beckham, Victoria Beckham, Gavin Rossdale, Gwen Stefani, Gordon Ramsay, Tana Ramsay, Laura Bailey, Jasmine Guinness, David Furnish, Roberto Cavalli, Simon Fuller