Photos of David Cameron and Samantha Cameron Who Are Expecting Their Fourth Child Pregnancy Details
Samantha and David Cameron Expecting Their Fourth Child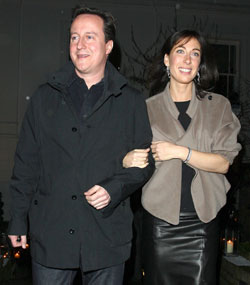 Conservative Party leader David Cameron and his wife Samantha have announced they are expecting their fourth child. A Conservative Party spokesman confirmed: "The baby is due in September and David and Samantha are completely thrilled."
David took part in the Sport Relief mile over the weekend, while Samantha told reporters yesterday she was "very, very delighted as you can imagine", adding that she is already suffering from morning sickness.
The new baby will join big brother, four-year-old Arthur Elwen, and big sister, six-year-old Nancy. Last February their six-year-old son Ivan died, having suffered from cerebral palsy and epilepsy.