Photos and Details From Jade Goody and Jack Tweed's Wedding
Jade Goody and Jack Tweed Celebrate Their Marriage
Jade Goody and Jack Tweed have spent their first night together as man and wife after their wedding yesterday. In preparation for her big day, Jade had her teeth whitened before posing with her bald-cap wearing pals, while Max Clifford said that during the service Jade "didn't want to wear a wig. She was bald and proud". Jade boarded a helicopter to get to Down Hall, whereas Jack got into a car wearing women's underwear! Fortunately he changed into a suit for the service, and the couple exchanged vows with Jade's sons, Freddie and Bobby, sitting on their laps. Following the service Jade stood for half an hour and made a speech to her family, friends and celebs Anthony Costa and Richard and Judy, saying: "I'm praying for a miracle".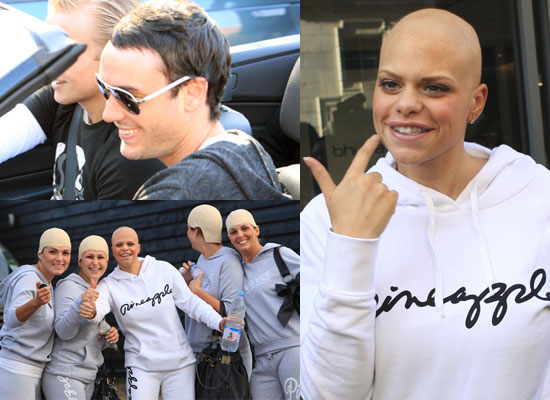 While there was talk that Girls Aloud might perform at the reception, the Sugababes reportedly provided the entertainment in addition to a fireworks display. Jade got her dream day, but was still thinking of others, reportedly telling Jack before the ceremony: "Find another when I'm gone". Her friend said: "It was Jade's dying wish to marry Jack. But she's so selfless and wants him to be happy. She's told him he should see other people when he feels the time is right." For now, though, Jade and Jack can enjoy every moment together as man and wife.
To see more pictures of Jade and the wedding guests, read more.