Photos Of Diddy, Russell Brand and Jonah Hill On The Set Of Get Him To The Greek
Diddy Rushes After Russell
Russell Brand was being chased through Las Vegas by Diddy this week as they started filming Get Him To The Greek, which is the spinoff from Forgetting Sarah Marshall focusing on Russell's rockstar character Aldous Snow. Dressed to impress in a shiny jacket, and finally pulled out of those leggings by the wardrobe department, Russell still doesn't look like he's wearing anything too different to his usual getup. Russell noted the fact he's basically playing himself on his Twitter, saying: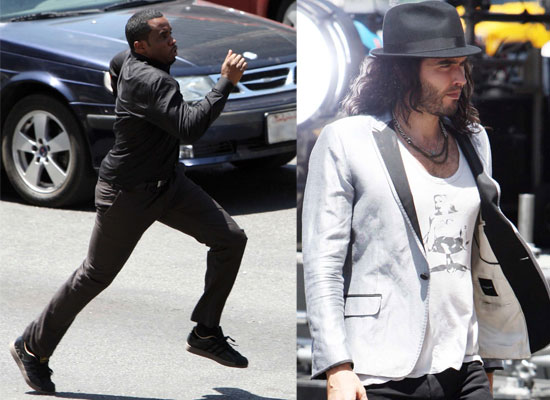 First day of filming on the "Greek" I am wearing a hat- not since Olivier's Othello has an actor been pushed so hard. I send you love. x

I'm filming in Vegas still acting the part of a man in a hat. If the Academy don't recognise this achievement it'll be to their detriment. x
To see more photos of Russell, Diddy and Jonah Hill filming their new movie, just read more.