Photos Of Emily Blunt and Amy Adams At New York Sunshine Cleaning Premiere, Full Trailer Of The Movie
Emily and Amy Clean Up On The Big Screen
Emily Blunt looked glowing as she attended a premiere screening of her new movie Sunshine Cleaning in New York last night. My girl BellaUK wants to know if you prefer her hair straight as she wore it last night or wavy? She stars in the indie film alongside Oscar nominee Amy Adams, and they play two sisters who work as a biohazard removal/crime scene clean-up service. With this film and The Young Victoria, Emily's showing her versatility on both sides of the pond. She's also been talking about the differences between the US and the UK, saying of Hollywood: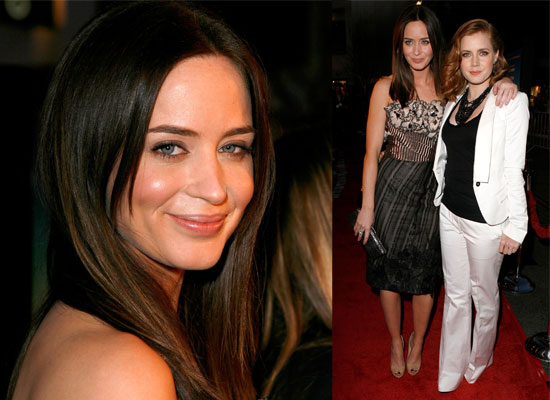 "It's very clique-ey. You have to be a bit careful finding out who your friends are in that town. You can feel the quest for success in LA. It emanates out of everyone and every corner. You can smell the fear. I love the bustle of being in London. I love that human contact you get from being on the street. LA is just a place of machines, cars just passing each other so you don't get that feeling of community."
Sunshine Cleaning is out in the UK in April, so check the trailer out after the jump and let me know if you'll be seeing it!
To check out the trailer, just read more.