Photos Of Emily Blunt At LAX, Plus An Interview with the Actress About New Movie The Young Victoria
Emily Blunt Talks About Taking On The Young Victoria
Emily Blunt was at LAX this week, hiding her eyes in shades as she checked in. Her movie The Young Victoria comes out on March 6 — will you see it or skip it?. While she was filming the period drama she answered a few questions about the movie, costume and process of filming. She swaps her real life boyfriend John Krasinski to play opposite Keira Knightley's boyfriend Rupert Friend, and here's what she had to say: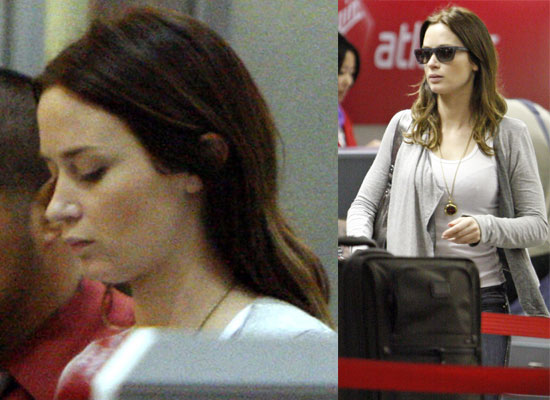 So, lots of sitting around today…
Lots of sitting… Yes, which is rather nice actually if you're in a corset. That's a relief. It's a big relief. I'm quite overheated though with all these layers. The big cloak is like carrying a bear on my shoulders so that's interesting.
What about the crown?
The crown has left a dent in my head which they just cover with make-up so I don't look frightening to you. But it's remarkably heavy.
How have you found playing Victoria?
It's wonderful. It's exciting, it's a challenge to say the least. She was a remarkable girl and so of course you want to do her justice. And there's a big journey to play with her from this young, rather stubborn teenager to a rather magnetic queen very much in command of herself. It's a big arc to find and particularly when you shoot out of order, it's tricky to maintain that. But I'm loving her. I'd read a lot about her before I did this and, contrary to popular belief, she was when she was younger a feisty and emotional and intelligent, vibrant person. I think that people mistake her for being this widowed, mourning queen. So it's exciting that we're going to refresh people's opinion of Victoria in this.
To read more of Emily's interview, where she talks about being chosen for the role, gowns and Keira Knightley's man Rupert Friend, just read more.
What was it like to be chosen for the role? Especially with this film being funded by an American company.
Well, I think the British would have been up in arms if they'd put an American in this part. But still, there are much bigger English actresses out there than me and I pretty much just demanded that they cast me in the role. Or pleaded first but then demanded… And it seemed to work. Maybe there was something quite queenly in that [laughs] – commanding them to choose me please! But I do feel the weight of responsibility and I certainly did right at the beginning. It was frightening, the thought of playing her. And then as soon as you start, the nerves dissipate a bit. But it is a big responsibility and I'm really tired but I'm really enjoying it still.
How is it working with Rupert Friend as Albert?
Oh, he's wonderful. He's just perfectly cast, impeccable, and has morphed into this character completely and read everything, did a lot of research in a very short space of time. I just couldn't have asked for a better guy. And you can believe him – he has a kind of gravitas so that you believe this guy would come in and help her, almost take over, almost become her superior in the relationship. He was the only one out of all of the actors that I read with that I would believe could do that.
How are you finding the gowns?
I hate the corset. Over it. So over it. Every day I have to wear it. They put it on me in the morning then they loosen it off for lunch, and then it's painful to get back into it again after a big meal. But they are beautiful… but I think if one more person steps on my train, I might swing some punches.
You can see the lovely Emily in her corset in the movie, when it's out on March 6!