Photos of Emma Watson in LA Promoting The Tale of Despereaux, Talking About Her Plans to Go to University
Emma Watson Wears Supersize Sunnies and Smiles in LA
Emma Watson flashed her gorgeous grin over the weekend, as she swapped theatre trips in the UK for the sunshine of LA. She's busy promoting The Tale of Despereaux, which is one of several big name films released this month. Check out the trailer and then let me know if you plan to see it or skip on my December films slideshow poll. Emma's also been chatting to MTV about her character in the movie, plans to go to university, Harry Potter, and future films. Here are highlights: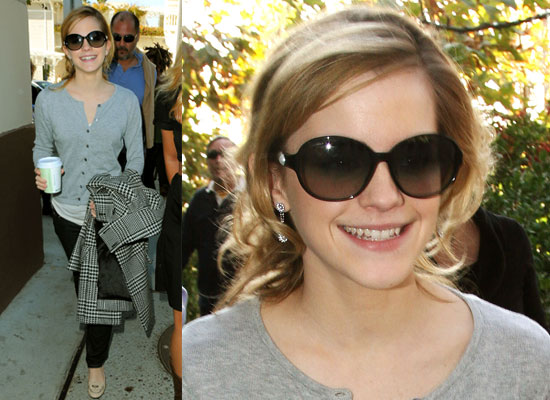 On the differences between Hermione and Princess Pea: "Hermione is a real tomboy. Princess Pea is very graceful, and she's more subtle. She's much more girly. I just felt really sorry for her. She's very alone."
On whether she's seen Harry Potter and the Half-Blood Prince: "No! I'm dying over here. I literally can't wait any longer. I think I'll get to see it in January."
On her plans to go to university: "I may stay in the UK, but I'm also looking at universities in the States, on the East Coast probably. I've applied already to some schools over there."
To see what Emma had to say about her plans for the future, and Daniel Radcliffe's nudity, just read more.
On her plans for the future: "I'm attached to a film called Napoleon and Betsy, which will hopefully get shot in 2010. I've got the colossal final book [Harry Potter and the Deathly Hallows] to finish off, and I'm going to university in September. I'm looking at scripts and auditioning. I'm very excited to do roles beyond "Potter." It's a very exciting time for me."
On whether she'd follow in Daniel Radcliffe's footsteps and bare all on stage: "I think Dan is incredibly brave. I would be completely terrified!"
I'm excited to see Emma's animated film: what about you?