Photos of Emma Watson in London and Interview Quotes on Filming Nude Scenes, Sexiness and University Options
Emma Watson Shares Views on Uni, Sexiness and Baring All
Emma Watson enjoyed a night out with friends at L'atelier Restaurant before the snow hit London this week. While we have to wait until 17 July to see Emma in Harry Potter and Half-Blood Prince, the actress is about to join Daniel Radcliffe to start filming Harry Potter and the Deathly Hallows before studying English and Philosophy at an Oxbridge or Ivy League college. Emma's also found time to chat with the Mail on Sunday's Live magazine about sexiness, nudity and university. Here are the highlights: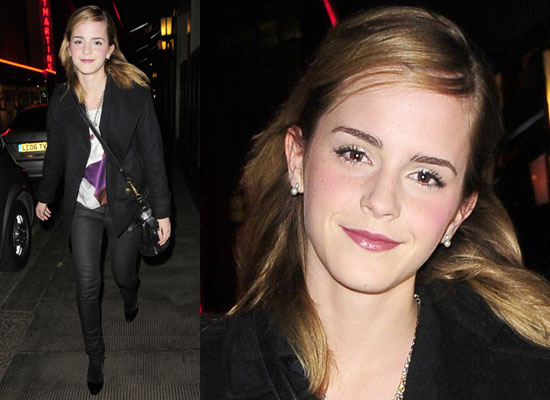 On her background: "I wasn't one of those girls who always dreamed of being an actress. I went to a normal school and then these film auditioners turned up when I was nine. Then I just fell into this whirlwind. I had lots of times when I thought: 'Woah, woah, hang on – I'm not completely sure about this.' I didn't come from a background of films. I didn't even really ever watch films. The fact is, my parents weren't into that stuff, and neither was I."
On her Harry Potter costars: "Daniel (Radcliffe), Rupert (Grint) and me have been incredibly protected doing the Harry Potter movies. There seems to be this feeling that all of us were bursting to break out of these images we had created but that's never been the case. We all share the same view. None of us court celebrity, none of us want to be part of the game."
On filming nude scenes: "I have no plans to do anything for the sake of it, or to shock people. I might be willing to take my clothes off for a Bernardo Bertolucci film, if it was a part that really made sense as part of my character. But I wouldn't do it just to make a point, to move on from Hermione. I'd hate to be so tactical. I'm not just getting my kit off for anyone."
To find out what Emma had to say about the concept of being sexy, leading her life away from the cameras, and her plans for university, just read more.
On sexiness: "I find the whole concept of being 'sexy' embarrassing and confusing. If I do a photo-shoot people desperately want to change me – dye my hair blonder, pluck my eyebrows, give me a fringe. Then there's the choice of clothes. I know everyone wants a picture of me in a mini-skirt. But that's not me. I feel uncomfortable. I'd never go out in a mini-skirt. It's nothing to do with protecting the Hermione image. I wouldn't do that. Personally, I don't actually think it's even that sexy. What's sexy about saying, 'I'm here with my boobs out and a short skirt… have a look at everything I've got'? My idea of sexy is that less is more. The less you reveal the more people can wonder."
On leading a private lifestyle: "I've never seen a 'good behaviour' clause (she refers to her reported Warner contract) – I honestly think that's a myth – but I actually wouldn't ever need one. It's just not necessary. I'm not tempted by parties or drugs. I don't actually like being drunk, particularly in public. But I do understand why people get sucked into a party lifestyle. I can see how it happens so I'd never criticise someone who gets into all that. It can get pretty tough. But you have choices in life. If I want to lead as private and as normal a life as possible I just can't go there. So I don't."
On university: "Jodie Foster did it, Natalie Portman did it. I think it's entirely possible to juggle university with filming... I actually think going to university will make me a better actress. The experience of living like that, working to deadlines, living with other students. It's all the things I want. There are actresses who don't know about things like doing their own laundry and getting a bus. I'm not going to be like that. For me, this is just the beginning. I've only shown a little bit of what I can do. There is so much more to come."
It certainly sounds like Emma's keeping her feet on the ground, even with her huge success. You can read the full interview over at Live.