Photos of Ewan McGregor and Wife Eve at LAX, Ewan McGregor Talks About Roman Polanski,
Ewan's Polanski Film Faces Delays But Not His Flight
Ewan McGregor arrived at LAX yesterday with his wife Eve, following some time in New York for the Amelia premiere. He has a few movies coming up, and one of them is the unfinished The Ghost, directed by Roman Polanski. Ewan has praised his directing skills, naming him "one of the very few completely brilliant directors" that he's worked with, but hasn't been following the news coverage of Polanski's arrest, saying this: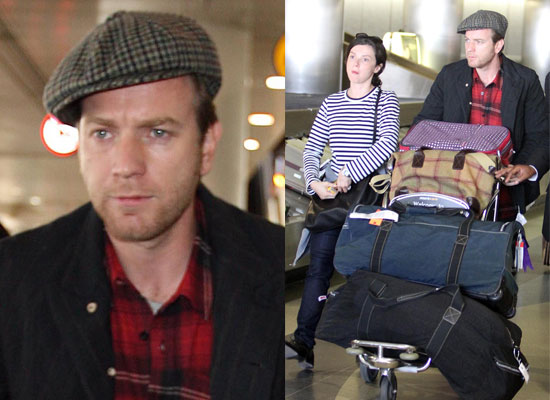 "No, I try not to. I was pretty upset. I don't like to think of him sitting in a prison cell. But I wouldn't comment upon it because it's a very complicated issue, you know? It seems odd. He's been living in Switzerland for years and I've visited him there, so this is all very strange."
Despite The Ghost's uncertain future, we still have The Men Who Stare At Goats to look forward to, which is out here on November 6!