Photos From The 2008 MTV Europe Music Awards On Stage and Winners!
2008 MTV EMAs: The Show & Winners
The big winners at last night's MTV Europe Music Awards were Britney Spears and Jared Leto's band 30 Seconds To Mars, each of them winning two awards. Hostess Katy Perry beat Duffy to take home the award for New Act, and the Brits were represented by Sir Paul McCartney and Rick Astley who each took home a gong. For the most part, the winners were American, and there was certainly a theme running through the evening as President-Elect Barack Obama's face showed up on everything from the video screens to one of Katy's twelve brightly coloured outfits!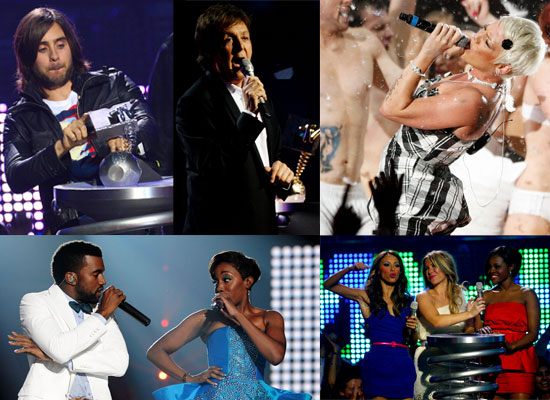 The show was definitely dominated by Americans, which included performances from Pink, The Killers, Kid Rock, Kanye West (with Estelle) and Katy herself, what did you think — would you have preferred more European acts performing as Take That and The Ting Tings did? Or was the overriding American influence reflecting our tastes in music in Europe? I'd love to hear your thoughts.
To see the full list of winners from last night, as well as many, many more photos from the show, just read more.
Album of the Year — Britney Spears, Blackout
Act of 2008 — Britney Spears
New Act — Katy Perry
Ultimate Urban — Kanye West
Most Addictive Track — Pink, "So What"
Headliner — Tokio Hotel
Rock Out — 30 Seconds to Mars
Video Star — 30 Seconds to Mars, "A Beautiful Life"
Best Act Ever — Rick Astley
Artists' Choice — Lil Wayne
Europe's Favorite Act — Emre Aydin, Turkey
Ultimate Legend — Paul McCartney
See more from the starry night at InStyle UK!