Photos From The 2008 Pride Of Britain Awards Including McFly, Emma Bunton, Geri Halliwell, Gordon Ramsay and others
Stars Bring Brollies To Pride of Britain Awards
The 2008 Pride Of Britain awards took place last night, with a whole host of celebrities showing up to hear the amazing and touching stories of the nominees and winners. We'll be able to share in the awe-inspiring tales of these Brits when the show airs on television tonight, at 8pm on ITV1. Geri Halliwell and Emma Bunton giggled under their Union Jack-emblazoned umbrella as they arrived to present an award, and Cat Deeley and Rachel Stevens were among the other guests using the brollies on the red carpet.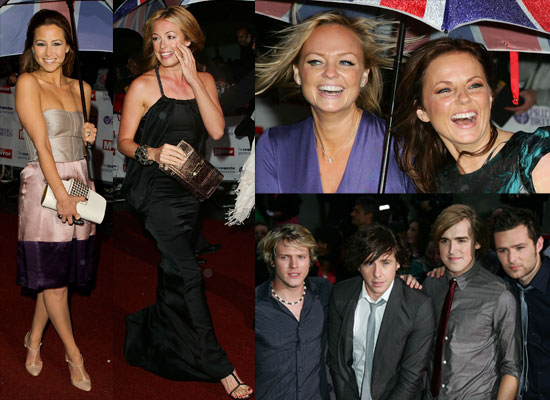 McFly, Louise and Jamie Redknapp, Kirsty Gallacher, Gordon Ramsay, Tess Daly and PM Gordon Brown were also among the guests honouring the lesser-known names who have shown great courage. Award winners this year include former Manchester United goalkeeper Harry Gregg who helped pull passengers from a burning plane during the 1958 Munich air crash, six-year-old Jaden Ashton, who rang 999 when his mother fell into a diabetic coma, and teenager Carl Duval, who jumped on to train tracks to save someone who fell off the platform. It looks set to be an inspiring watch.
To see more photos of the stars arriving for this special event, just read more.