Photos From 2009 BAFTA Awards, Featuring Kate Winslet, Freida Pinto, Angelina Jolie, Emma Watson, Sharon Stone, Amy Adams, etc
Ladies Look Lovely In The Limelight At 2009 BAFTA Awards
Last night I made my way to Covent Garden for the 2009 BAFTA Awards held at the Royal Opera House, and watched from the red carpet as all the stars made their way inside to enjoy the ceremony. There was a fab mix of Hollywood A listers and burgeoning Brit talent out in the typically British rain, but luckily much of the red carpet was undercover, and brollies were being handed out to everyone as they arrived. Penelope Cruz rushed up the thick red carpet as fast as she could, but most of the other invited ladies like Meryl Streep and Amy Adams wandered leisurely.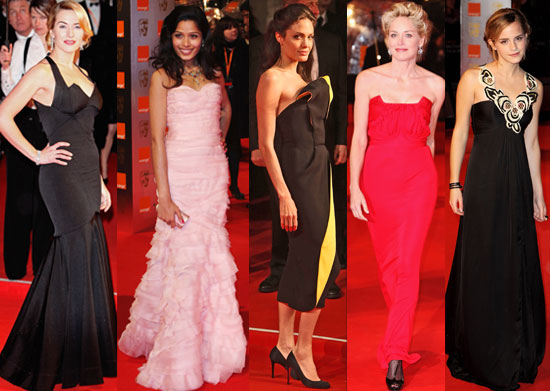 Angelina Jolie and Brad Pitt took their time, Freida Pinto was so excited to be there and looked absolutely stunning in her pale pink dress, Emma Watson spent time talking to fans, while Goldie Hawn beamed her famous smile at everyone who shouted her name. Sharon Stone and Karolina Kurkova wore dresses that matched the carpet, while Kate Winslet was telling everyone she was happy to be back at home representing her movies as her parents proudly looked on.
Don't forget to vote on whether you love or hate the ladies' looks, and check out all the winners. But to see many more images of all the fabulous females that took to the red carpet last night, just read more.
Images include: Penelope Cruz, Sharon Stone, Angelina Jolie, Gemma Arterton, Thandie Newton, Kate Winslet, Sharon Stone, Meryl Streep, Alesha Dixon, Emma Watson, Goldie Hawn, Amy Adams, Freida Pinto, Katherine Jenkins, Marion Cotillard, Marisa Tomei, Karolina Kurkova, Laura Bailey, Emily Mortimer, Claudia Winkleman, Alice Eve.