Photos From 2009 Empire Film Awards Including James McAvoy, Gemma Arterton, Joanna Page, Anne Marie Duff, Gerard Butler etc
Best of British Attend Empire Film Awards
The Empire Film Awards took place in London last night, with a bevy of British acting talent attending to present and collect trophies. Best newcomer Gemma Arterton posed playfully for the photographers as she arrived, and there were some classic but unique black outfits from Joanna Page, Anne Marie Duff, Hayley Atwell, Helena Bonham Carter,Georgia Groome and Olga Kurylenko — FabUK wants to know who your best-dressed of the evening is!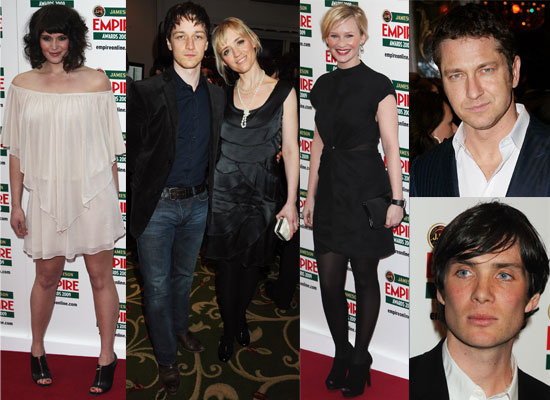 The gorgeous Cillian Murphy, Gerard Butler and James McAvoy were just a few of the men adding some manjoyment to the occasion, alongside Jim Sturgess and Viggo Mortensen. The Dark Knight was the big winner of the evening with best film, director and actor as well as a special tribute award going to the late Heath Ledger.
To see more photos from the Empire Awards, as well as a full list of the winners just read more.
Best Film
The Dark Knight
Best Actor
Christian Bale (The Dark Knight)
Best Actress
Helena Bonham Carter (Sweeney Todd)
Best Director
Christopher Nolan (The Dark Knight)
Best British Film
Rocknrolla
Best Soundtrack (Shortlist by Empire Magazine)
Mamma Mia!
Best Comedy
Son Of Rambow
Best Horror
Eden Lake
Best Sci-Fi/Fantasy/Superhero Movie
Wanted
Best Thriller
Quantum Of Solace
Best Newcomer
Gemma Arterton
Done In Sixty Seconds
Jerry Maguire
Outstanding Contribution to British Film
Danny Boyle
Empire Icon
Viggo Mortensen
Actor of Empire's Lifetime
Russell Crowe
Special Tribute Award
Heath Ledger
Images include: Hayley Atwell, Joanna Page, Viggo Mortensen, Jim Sturgess, Mackenzie Crook, Danny Boyle, Gemma Arterton, Olga Kurylenko, James McAvoy, Anne Marie Duff, Martin Freeman, Tom Felton, the cast of Son of Rambow, Michael Sheen, Gerard Butler, Helena Bonham Carter, Sean Bean, Thomas Turgoose, Cillian Murphy, Edith Bowman, Georgia Groome.