Photos From The Bronson Premiere In London Featuring Tom Hardy, Alexa Chung. Bronson's Recorded Message Played At Screening.
Alexa Attends Controversy Causing Bronson Premiere
UPDATE: Check out Tom Hardy in Inception — click the link for tons of stills, his Jonathan Ross interview and trailers too!
Alexa Chung took a leaf out of Kate Moss's book and wore a stripy nautical jumper to the premiere screening of Bronson in London last night. The film tells the true story of notorious British prisoner Charles Bronson, and has caused plenty of controversy even before it's released in the UK this Friday — will you be seeing it? At last night's premiere the real Bronson's voice was played over the speakers as he left a message for the audience, in response, the Ministry of Justice said that any interviews with him "contravened Prison Service policy".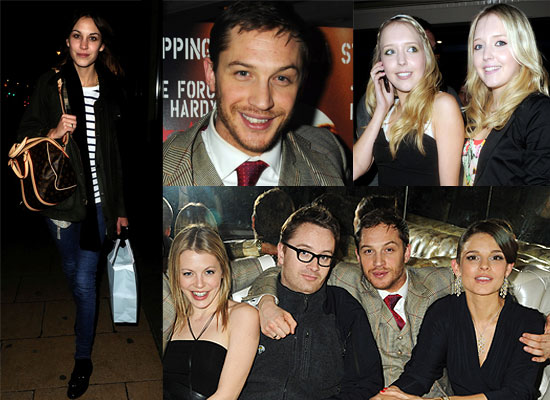 Fantastic British actor Tom Hardy takes on the title role, and put on two and a half stone of muscle to play the part. He certainly looked happy with the finished product last night as he attended the afterparty at the Groucho club with director Nicholas Winding Refn and his girlfriend Rachael Speed.
To see more photos from the Bronson premiere and afterparty, just read more.