Photos From Comic Relief 2009 Launch, Including Rob Brydon and Ruth Jones Who Are Recording This Year's Charity Single
Ruth and Rob Record For Comic Relief!
Comic Relief 2009 launched today, with Ruth Jones, Rob Brydon and Joanna Page taking centre stage at the event in Leicester Square. They were sporting the classic red noses, with a slightly new design for 2009, alongside other celebs like The Saturdays, Jo Brand, Claudia Winkleman, Steve Jones and Alesha Dixon. Rob and Ruth have recorded a special version of their classic Gavin and Stacey song moment "Islands In The Stream" to release as the single for this year's Comic Relief night of music and mayhem which will fall on 13 March this year.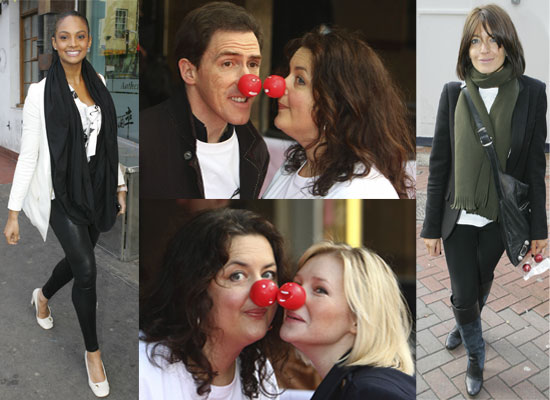 They went to Las Vegas to record the video and Tom Jones and Bee Gees singer Robin Gibb guest star! Rob's pretty well-known for his hilarious Tom Jones impersonation, and this is what he said about recording with him:
"I was really looking forward to it because I think I can sing a bit. But, I got really nervous when we were there because a proper recording studio is very unforgiving of your voice. It's not like singing in the bathroom, you hear every little imperfection. Then they tart it up a bit for you."
I can't wait to hear it, can you?!
To see more photos from the Comic Relief 2009 launch, just read more.