Photos From Gala Opening Of 2008 London Film Festival And Screening of Frost/Nixon With Ron Howard, Michael Sheen, Keeley Hawes,
Frost/Nixon Kicks Off The London Film Festival 2008!
A screening of new movie Frost/Nixon was the focus of the gala opening of the London Film Festival 2008 last night. The film is based upon Sir David Frost's interviews with US president Richard Nixon in 1977, and Sir David was one of the guests at the event last night, posing for photos with the actor who plays him in the Ron Howard-directed movie, Michael Sheen. Sir David said it had been a landmark moment in his life, interviewing this man who was "going towards his mea culpa", and Michael spoke about playing Sir David on the red carpet, explaining: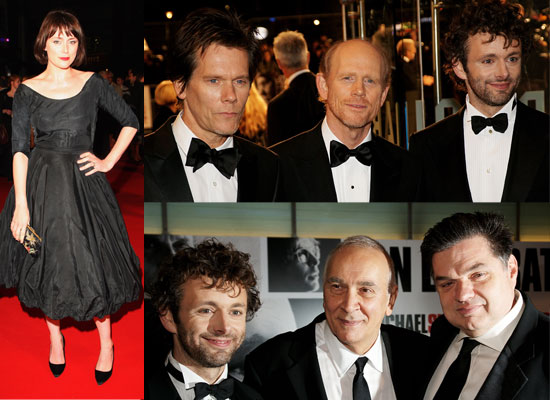 "David Frost is not a character... more of a way of life, so I started to get worried when I found it more enjoyable being him than I did being me. So now I'm starting to kind of de-Frost, come out of character and let it go."
Other stars of the movie, such as Frank Langella (who plays Nixon), Matthew Macfadyen, Kevin Bacon and Oliver Platt also helped celebrate the movie last night and kick off the film festival with a bang. A little glamour was provided to the boys' evening out by Keeley Hawes, who looked beautiful in her puffball dress.
Don't forget to enter our awesome film-related competition, and stay tuned for all the details and photos from the London Film Festival over the next two weeks.
To see more photos from last night's screening, just read more.