Photos From Inglourious Basterds LA Premiere Including Brad and Angelina, Sidney Poitier, Diane Kruger, Christina Ricci
Brad and Angelina Step Out In LA For Inglourious Basterds
Quentin Tarantino has taken his new movie Inglourious Basterds around Europe already, premiering it to audiences on this side of the pond with Diane Kruger. Last night the film finally got its Hollywood premiere, with star couple Brad Pitt and Angelina Jolie ensuring that it was a big event. Star of the movie Brad looked dashing in his suit, while Angelina looked picture perfect beside him in her rock chic dress and heels. Other stars at the premiere included Christina Ricci, Melanie Laurent and BJ Novak, who costars in the film, and attended alongside his The Office costars Jenna Fischer, Mindy Kaling and Angela Kinsey.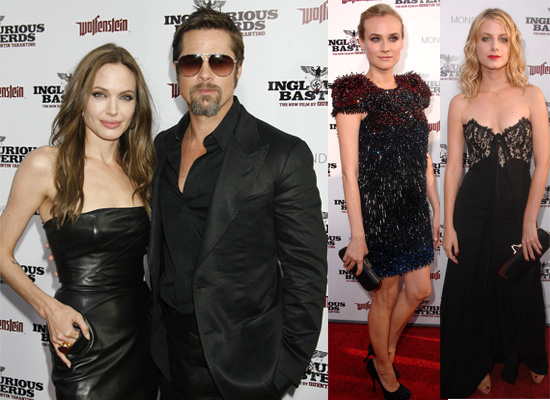 At the afterparty Diane laughed with Sarah Silverman, and caught up with movie mogul Harvey Weinstein — looks like they all had a glorious night!
To see more photos from last night's premiere, just read more.