Photos From LA I Love You Man Premiere, Jason Segel, Paul Rudd, Jon Hamm, Jason Bateman, Rashida Jones, Krysten Ritter
Paul and Jason Inspire Bromance At I Love You Man Premiere
At last night's I Love You Man premiere in Los Angeles, Jason Segel and Paul Rudd brought a bevy of guests together to celebrate a whole lot of man to man friendship. Jason was put in a friendly headlock by Lou Ferrigno, and then moved on to pose happily with Jack Black, while Jon Favreau hung out with Paul before he moved on to Andy Samberg. Looking rather handsome in his black suit, Ben Stiller kept it all in the family and was accompanied by his father Jerry and wife Christine Taylor.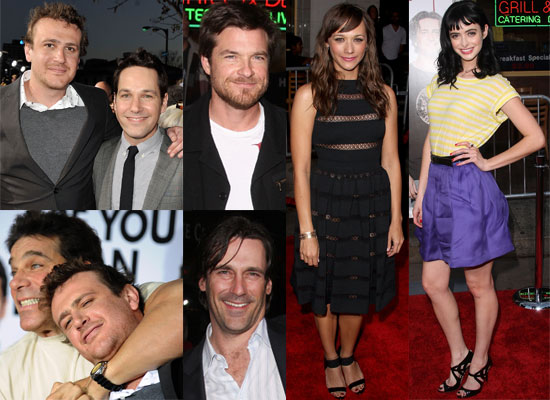 Showing it wasn't all about the boys, Mad Men's Jon Hamm, Jack, Paul and Jason Bateman all brought dates, while the movie's female stars Rashida Jones and Jaime Pressley looked gorgeous on the red carpet — I adore Krysten Ritter's colourful outfit! Are you looking forward to seeing Jason and Paul in the funny movie when it's out here on April 17?
To see many more photos from the premiere of I Love You, Man, just read more.