Photos From The Press Room and On Stage At The 2009 MTV VMAs, Plus Full List Of Winners
Stunts and Stunners At The MTV VMA Show!
The guests at the MTV VMAs looked great on the red carpet last night, but let's not forget they were all there for the show and the awards! Russell Brand hosted the event, and was surprisingly not the one at the centre of controversy this morning, after Kanye West managed to be the one upsetting people at the event. After announcing that the winner for Best Female Video was Taylor Swift he interrupted her speech, saying: Taylor, I'm really happy for you, and I'm gonna let you finish, but Beyonce had one of the best videos of all time." Beyonce later won Best Video of the Year and invited Taylor up on stage with her as she made her speech. Kanye was booed off stage and later asked to leave the event. He took to his blog to apologise to Taylor. Aside from that, both Beyonce and Taylor put on great performances, as did Green Day, Alicia Keys, Diddy, and Pink who rocked above the stage with a trapeze artist!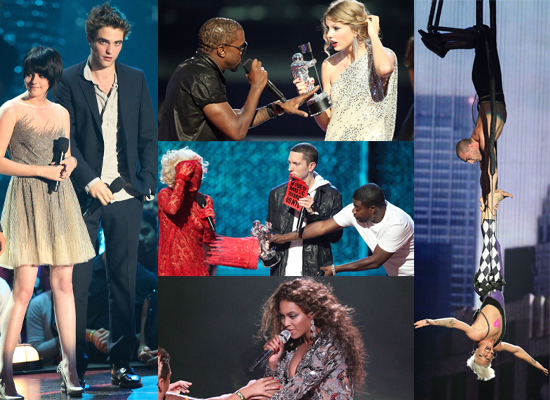 To see more photos from the MTV VMAs, as well of a full list of winners, just read more.
BEST VIDEO OF THE YEAR
Beyonce, "Single Ladies"
BEST NEW ARTIST
Lady Gaga
BEST MALE VIDEO
T.I. featuring Rihanna, "Live Your Life"
BEST FEMALE VIDEO
Taylor Swift, "You Belong With Me"
BEST POP VIDEO
Britney Spears, "Womanizer"
BEST HIP-HOP VIDEO
Eminem, "We Made You"
BEST ROCK VIDEO
Green Day, "21 Guns"
BEST VIDEO (THAT SHOULD HAVE WON A MOONMAN)
Beastie Boys, "Sabotage,"
BEST BREAKTHROUGH VIDEO
Matt and Kim, "Lessons Learned"