Photos From The Red Carpet At The MTV VMAs 2008, MTV Video Music Awards 2008 Feat Zac Efron, Lindsay Lohan, Miley Cyrus, Pink
Dramatic Dresses And Dapper Dudes at The MTV VMAs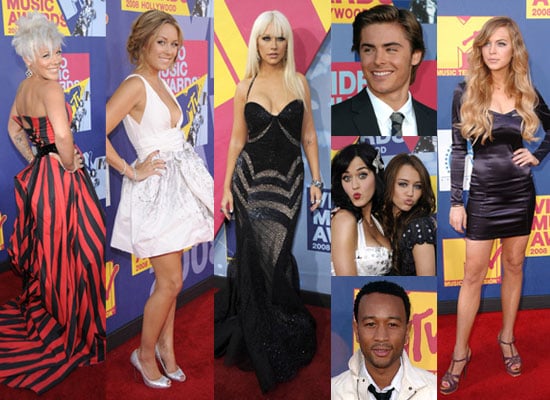 0
Dramatic Dresses And Dapper Dudes at The MTV VMAs
LA was host to the 2008 MTV Video Music Awards last night, and nominees, presenters and performers flocked to the red carpet for the show. Black seemed to be the order of the day as Christina Aguilera, Ashlee Simpson, Miley Cyrus and Heidi Montag showed up in gothic tones, meanwhile Heidi's The Hills arch-enemy Lauren Conrad showed up in a gorgeous short white dress. Pink wore a striking red and black striped number, while Katy Perry turned up in... well, not a lot actually!
I can't wait to hear what you think of all the red carpet attire, so once you've flicked through my gallery of photos let me know your thoughts! The men were either suave in suits like Chace Crawford, Drake Bell, Zac Efron and Josh Peck, or casual in the case of Jonah Hill, Kid Rock and Corbin Bleu.
Stay tuned for the winners, and lots of photos from the show. But for many more photos from last night's arrivals at the MTV VMAs, just
.
Images include: Christina Aguilera, Jonas Brothers, Fall Out Boy, Kid Rock, Taylor Swift, Katy Perry, Chace Crawford, Slash, Jonah Hill, Zac Efron, Pink, Jordin Sparks, Ashley Tisdale, Rihanna, Pussycat Dolls, Chris Brown, Travis Barker, DJ AM, Tokio Hotel, Lauren Conrad, Audrina Patridge, Ashlee Simpson, Lindsay Lohan, Pete Wentz, Kristen Stewart, Josh Peck, LL Cool J, Nicky Hilton, John Legend, Spencer Pratt, Heidi Montag, Demi Lovato, Bar Refaeli, Teresa Palmer, Drake Bell, Melissa Lingafelt, Solange Knowles, Corbin Bleu.