Photos From Sex And The City 2 Filming In Manhattan, NYC
SATC2 Girls Choose Comfort & Cynthia Carries Wonder Woman
While New York Fashion Week has taken over our attention, Sex and the City 2 has continued to shoot in NYC, and the ladies were spotted out and about on the street in Manhattan yesterday. Sarah Jessica Parker and Kim Cattrall both wore their Uggs as they made their way between the trailers and set, with SJP swapping them for some stilettos later as she got into costume for filming.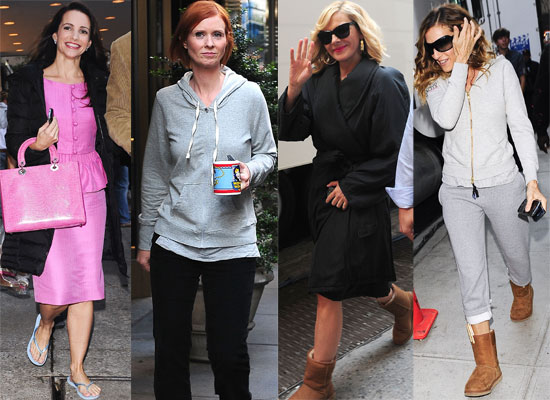 Kristin Davis was looking very Charlotte in her bright pink outfit, which she teamed with some flip flops for her journey to set, holding onto a security guard's arm. Lastly, Cynthia Nixon arrived on set from makeup looking casual, and drinking from a Wonder Woman mug. It's still so long to wait for the May release date, but I can't wait — are you looking forward to it?
To see more photos of the ladies, just read more.