Photos From The US Premiere Of Bedtime Stories Including Russell Brand, Guy Pearce, Courteney Cox, Keri Russell, Teresa Palmer.
Russell's Back On Brand For US Bedtime Premiere
After a rather downplayed performance on the UK red carpet for the premiere of Bedtime Stories, Russell Brand was back to his old self — huge hair and all — as he posed and joked at the US premiere. Vocal supporter of our Brit comedian, director Adam Shankman, smiled alongside him, while glamour was brought to the red carpet by Courteney Cox, Russell's ex Teresa Palmer and Keri Russell. Guy Pearce brought a different shade of handsome than Russell, his specs appeal shining out as he walked the press line, don't you think he looks gorgeous? Yum.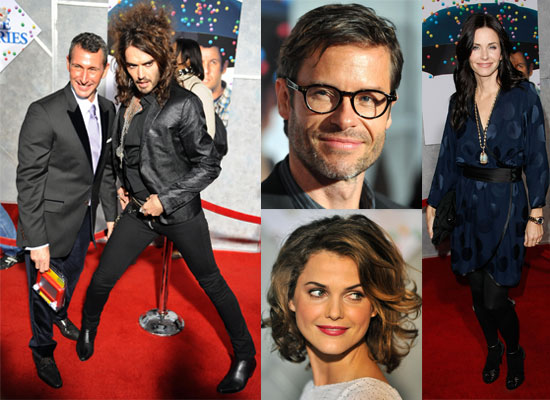 To see more photos from the premiere, just read more.